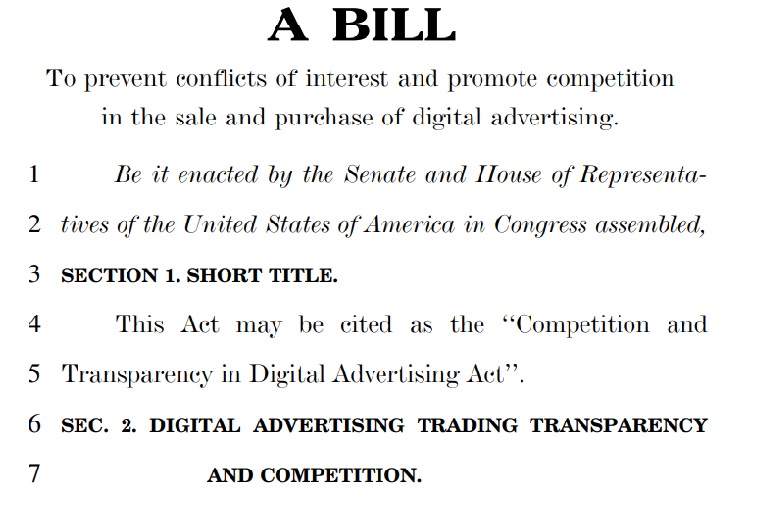 Digital advertising transparency is the main purpose of a bill that a group of U.S. senators came up with. The project would force Google break up the ad-tech business, for regulation and transparency reasons.
Why digital advertising transparency?
The Competition and Transparency in Digital Advertising Act proposes very strict rules. Thus, it would mainly affect those companies with over $20 billion in digital ad revenue. They could not own a digital advertising exchange if they also own a demand-side (DSP) or sell-side platform(SSP). Moreover, the senators mentioned that this would apply also to those who sell advertising space.
The search giant's name is not mentioned in the document. Still, it owns the largest DSP, SSP, and exchange used in programmatic auctions. On top of that, it is the largest online publisher. According to the estimates, it would capture 28% of US digital ad revenue this year.
This is already the second attempt to regulate Google's power in digital advertising trading. One and a half years ago, an anti-trust complaint was brought in New York. Sen. Mike Lee said that such a trial might take a long time, while the situation requiers immediate action.
Google: "This is the wrong bill"
On the other hand, Google reacted, saying that this would not be a good idea. "Breaking advertising tools would hurt publishers and advertisers, lower ad quality, and create new privacy risks," they mentioned.
The spokesperson also added that "this is the wrong bill, at the wrong time, aimed at the wrong target." The same person explained that low-quality data brokers was the real problem.
Although the bill might target big tech, smaller companies might also have regulation. So, companies that have revenues over $5 billion should act in the best interest of its customers. This means they should seek the most favorable terms for their customers, and obey the new transparency rules.
While the entire industry is trying to defend its huge income, there are more and more concerns about their online power. Also, regulators worry about the safety of personal data of the users whom advertisers try to follow everywhere.
For an online ad-free life, use one of the best ad blockers out there, Ad Guardian Plus.