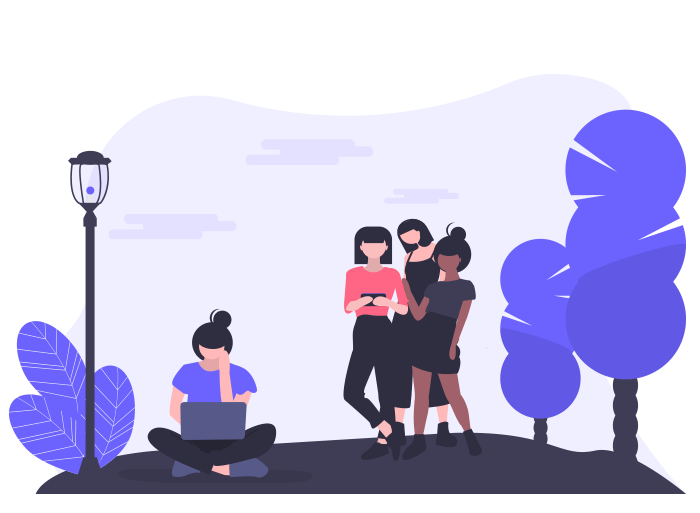 Internet bullying affects your child's overall well-being. Find out 10 ways to secure your kids from cyberbullying. We will also understand the role of parental control app to withstand against online crime.
Moreover, the Internet has become a pre-eminent part of our lives. Smartphones captivate everyone. From toddlers to teenagers everyone is the prey of it. Unfortunately, the real-world offenses have now found the place online too.
And as a parent, it is natural for you to agonize over your child's digital safety, and the threat you need to be aware of the most is – cyberbullying.
What is cyberbullying?
Cyberbullying is when someone uses digital devices, such as computers, laptops, smartphones, and tablets, to harass, threaten, or humiliate a person via emails, text messages, or social media.  
Different types of cyberbullying
Knowledge of the different kinds of online bullying is necessary to enable parents and kids to report the incident and adopt measures to prevent it. Let us figure out some of the common types of harassment.
Spreading humiliating and nasty rumors or comments about an individual online.

Making embarrassing images or videos of the victim public.

Character assassination by forging a scandalous webpage.

Issuing online threats or provoking the target to hurt themselves or others.

Posting hateful comments or content to trigger religious, racial, ethnic, or political vitriol online.

Create a fake account of the victim and post the messages and images for online defamation.
Characteristics of a cyberbully
Generally, the persons involved in cyberbullying are also likely to be involved in conventional forms of bullying. In a study of middle school students, 61% of victims admitted being targeted by both the types of bullies.
Following are a few of the traits of a cyberbully:
Short-tempered and obsessed with weapons (violent games and content)

Has no regret for their actions and blame others for everything that goes wrong

Suffers from depression and has extreme mood swings with poor coping skills

Might have suicidal tendencies

Participates in cruelty against animals and the destruction of property

Has little or no support from family

Might have been personally abused or has witnessed abuse

at home

Either prefer isolation or has peers with the same inclination
7 warning signs your child is a cyberbullying victim
Is agitated when receives a text, instant message, or email.

Find excuses to stay at home instead of going outdoors, even to school.

Hesitates when you ask them to share information about online activity.

Uncharacteristic anger or anxiety, especially after going online.

Has trouble sleeping at night.

Sudden weight loss or gain.

Suicidal thoughts or attempts.
Cyber Safety tips: Save your child from cyberbullying
Do not allow your children to use electronic devices in their bedrooms. Also, ask them to use the gadgets in the common area instead.

Become familiar with social networking apps, such as SnapChat, Facebook, Instagram, and Twitter. Learn how to apply privacy settings.

Regularly talk to your kids about online safety and assure them that you are always there to help if they find anything inappropriate, upsetting, or dangerous.

Set reasonable time limits on their device usage and explain your reasons.

Instruct your children not to respond to any threats or hateful comments online.

Never blame your children for being bullied online. Instead, be supportive and understanding.

Tell them not to delete any of the messages, posts, etc., and take the screenshots so that it can work as evidence.

Report it to the administrator of the platform where bullying occurred, and ask them to remove the offensive content, and take necessary actions against a bully.

Involve law enforcement, if the threats of physical violence or bullying continue to escalate.

Inquire if the bully is someone from the school as chances are – your child is going to the same school as them. Ask if the school has anti-bullying policies in place or not.
How can parental control help combat cyberbullying?
Parental control app allows you to block inappropriate apps and calls, screen time control, disable the Play Store to prohibit them from downloading any app.
Additionally, when your child spends limited time online, and you schedule their bedtime with the kid's safety apps (block their phones), they would be available online all the time or at odd hours. So, naturally, the risks of them getting exposed to the Internet bullying reduces.
Moreover, no one can give you a guarantee that your child will not become a target of any bullying – be it on the playground or online. But regular and honest communication can help you spot suspicious behavior at an early stage.
Furthermore, recovering from the trauma of online bullying can be a long and challenging process. In such cases, the victim needs all the support and guidance from parents, peers, family members, teachers, and a professional counselor (in some cases).
Bit Guardian Parental Control is a wonderful child monitoring app that can help you to protect your precious child from the relentless bullies.