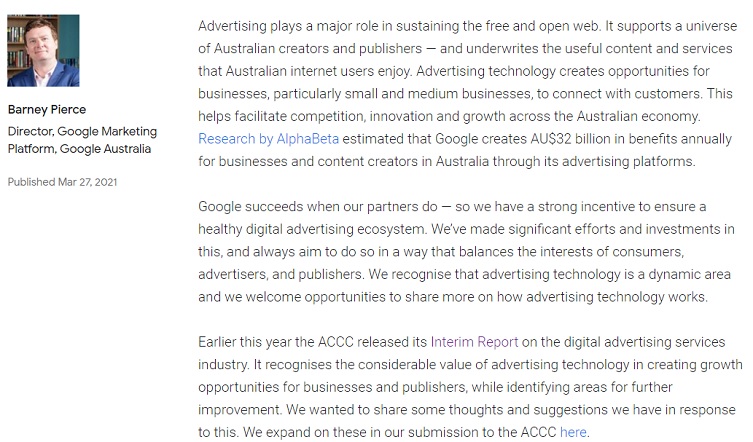 Barney Pierce published a blog and expresses Google's wish to change rules for ads in Australia. Pierce is Director, Google Marketing Platform, Google Australia. In a blog post published today, but dated Mar 27, 2021, he brought a regulatory approach for the official recommendations.
The Australian Competition and Consumer Commission (ACCC) published the "Digital advertising services inquiry," at the end of January.
Google's attitude to change rules
According to ACCC, publishers, advertisers and consumers suffer because of lack of competition and transparency in the digital advertising. So, the authorities decided to address it.
"There is a real lack of competition, choice and transparency in this industry," Rod Sims, ACCC Chair, mentioned. As a result, "these issues add to the cost of advertising for businesses." So, he concluded, "these impact the prices paid by consumers."
As a reply, Google shows the benefits its advertising platform creates for companies and content creators in Australia. "We wanted to share some thoughts and suggestions we have in response to this," Pierce said.
So, it wants to change the rules for ads that should become compulsory.
What Google stands for
In its blog post, the giant comes with six "key factors" that ACCC should consider when developing its final recommendations.
Balancing the interests of different stakeholders. Google considers that "any interventions must be carefully designed". The reason it came with is that "measures that increase the transparency for one group may put consumer privacy at risk." Then, Pierce hits the nail on the head saying that "Our users trust us with their data and we take that responsibility seriously".
Supporting supply chain transparency. Regarding this issue, Google admits that "more can be done in support of a transparent ecosystem." So, Pierce says that the giant supports Interactive Advertising Bureau (IAB) Transparency Standard.
Protecting innovation and competition. Google pretends that ACCC's intervention here would undermine benefits for both advertisers and publishers. One of them would be the vertical integration of services within the industry.
Recognizing the highly dynamic and multifaceted nature of digital advertising.Here, Google criticizes the report as it focuses mainly on web-based open display advertising. Thus, Pierce mentions that this is "an artificially narrow segment that does not fully reflect industry dynamics or the breadth of services".
Avoiding inconsistent and overlapping regulation. In this matter, Google dares ACCC to keep in mind all the laws regarding competition, when coming with its conclusion. He points the competition law which addresses issues regarding "anti-competitive self-preferencing." Google claims here to be a big consumer privacy supporter.
Google pleads for "a collaborative approach"
In his blog post Pierce mentions that the company he represents supports the suggestions for "industry-led initiatives."
In his post, Pierce says that the industry participants better understand the technology, dynamics and consequences of any intervention. As a result, "We are confident that a collaborative approach will benefit consumers and businesses in Australia."
Also, he emphasizes that the company is ready to constructively participate "in the ACCC's Ad Tech Inquiry process."
Google threatened at the beginning that it would turn off its search engine in Australia if the ACCC's rules become mandatory. It even blocked some news websites. Then, as it could not completely avoid the news media code, it changed its mind. We will see if the authorities will considered the requests.