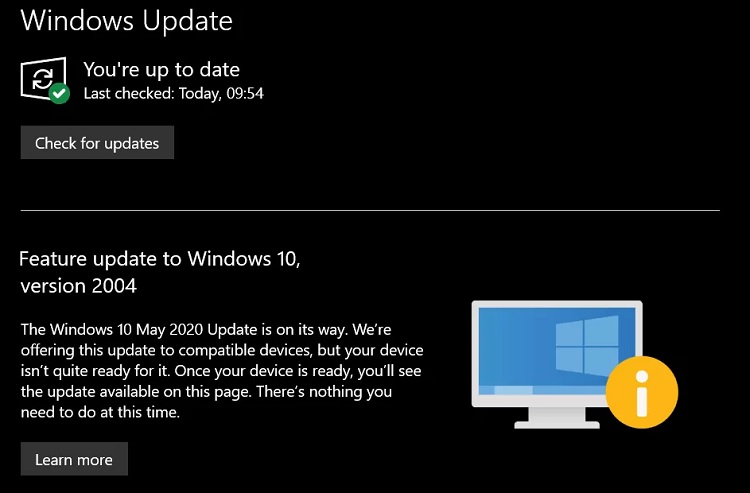 After the release last week, Microsoft decided to block the Windows 10 update on some devices. According to the company, the decision came as it admitted that there are some known issues preventing the update from being installed on some machines.
The company mentioned that "variable refresh rate not working as expected on devices with Intel iGPU".
10 issues prevent Windows 10 update
Microsoft mentioned that it discovered "incompatibility issues when using a monitor with Variable refresh rate (VRR) plugged into an Intel integrated graphics processing unit (iGPU) display adapter and Windows 10, version 2004."
So, the company decided to hold on Windows 10 devices with the graphics that raise problems from the update. Still, users can force the Windows 10 May 2020 through Microsoft's update assistant. But the company recommends that users "do not attempt to manually update using the Update now button or the Media Creation Tool until this issue has been resolved."
Thus, some users have been checking Windows Update for the May 2020 update without success. Moreover, the company also added a warning in Windows Update for devices that are not ready for the update.
GameInput Redistributable blocks the update
Microsoft blocked the latest update on systems with apps or games that use GameInput Redistributable, as they might "lose mouse input." The company applied a compatibility hold on Windows 10 devices with GameInput Redistributable.
Users might not be aware of the existence of as this redistributable. This is because it might install silently during the installation of the app or game. 
Also, the presence of askfridge.sys or aksdf.sys and the old drivers for Nvidia display adapters might prevent the update.
Microsoft mentioned that it started working with the companies that produce software or hardware which interferes with the new update. But this might also take a while, until ready.