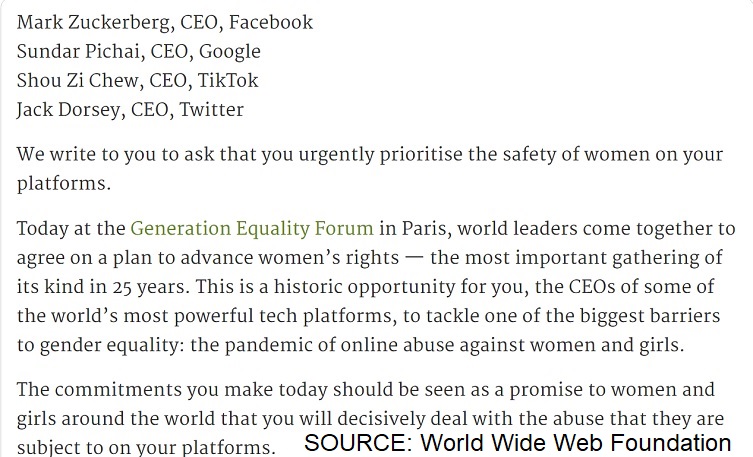 A group of 200 prominent women are calling for action against online abuse on social media platforms. They have published an open letter at the UN Generation Equality Forum, in Paris. In this, they called upon Google, Facebook, Twitter and TikTok to take action against threats and attacks on women.
Online abuse brings frustration
Many celebrities, such as former Australian prime ministere Julia Gillard, actress Emma Watson and others signed the letter. Acoording to Julia Gillard, "I regularly received higly gendered and ugly social media, including the circulation of pornographic cartoons".
The former prime minister mentioned she felt "angry and frustrated".
The women addressed the letter to the chief executives of the four giants. The signatories asked them to "immediately prioritise the safety of women". But they came with an unconvincing response, although they said they would work to improve the moderation systems.
Lucina Di Meco, co-founder of #ShePersisted Global, said that these are not "real commitments." And she mentioned that these "abstract statements offer tech companies a good PR opportunity."
In the letter, women emphasized a 2020 study of more than 4,000 women by The Economist Intelligence Unit. According to it, 38% of those faced online intimidation.
Marginalised groups became a target
The study also emphasized that online abuse is worse for marginalized groups and black, Asian, Latin American and mixed-race women.
Azmina Dhrodia, senior policy manager for World Wide Web Foundation said that the abuse is "wide spread". So, she considers it "one of the biggest barriers to gender equality".
The reaction came quickly. TikTok asks people to measure the impact of their words, before posting. Also, Twitter came with a feature to limit the posts people see. Still, Vijaya Gadde, head of legal, public policy and safety mentioned that they have a lot of things to do for improvement.
Facebook also announced a Women's Safety Hub. This is going to centralize the necessary resources to deal with online abuse. Also, a Women's Safety Advisory board will monitor and make recommendations on the issue.
The World Wide Web Foundation announced it would track them and report on their progress.