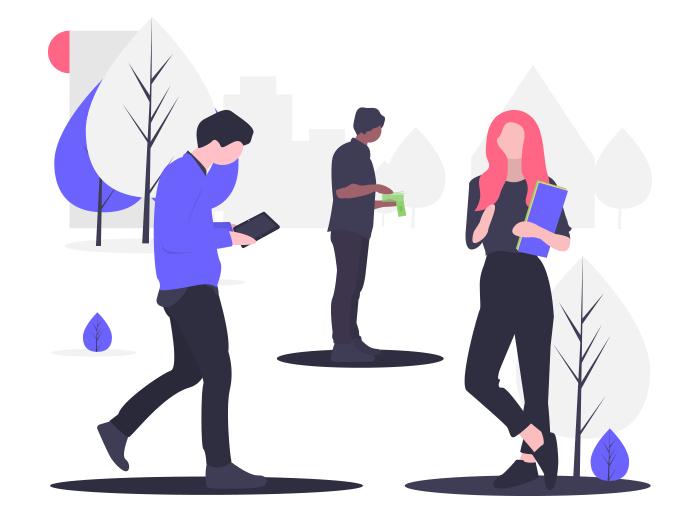 A wrong notion is spreading across the globe that technology and gadgets are simply a source of distraction for kids and education. But is that entirely true?
The impact of technology on education is far more critical and positive than we know. And it is time parents & teachers acknowledge and spread the significance of technology classrooms with children.
 The benefits of technology in education are numerous, but it has been achieved because of the specific innovative implementations in the field of education.
 So, let us discuss the positive impacts of technology on education.
7 ways technology is improving the education landscape
Access to Information
Unlike yesteryears, when the internet was just a naive concept, and accessing it was like accessing a commodity, now information accessibility has progressed manifolds. More and more individuals can afford the internet, which means more data dissemination across the globe.
Education has benefited from the growing internet network and agility. Not only students but teachers and professors see this wave as a blessing in the enhancement of their existing knowledge and transcending physical limitations.
In fact, teachers are able to focus on the practical form of education due to easy access to the web. Students can get their hands on a large number of study materials online.
Simulation and Modelling
Teachers have transformed static learning into more real-life models, for more intuitive learning of kids.
Earlier, models like the planetary motions were demonstrated on a 2D frame, making the overall experience and understanding dissatisfactory.
However, with new simulation and 3D modeling, kids are able to enjoy and visualize tornados, lightening, working of engines and many more concepts in a simpler and better way.
The idea of simulation modeling is to display a comprehensive picture of anything that is too big or too small or even an event that is too fast or too small.
Development in simulation modeling has not only benefited education but several other fields like defense and research as well.
Education has benefited more than any field because it enhances the learning curve of children who aspire to participate in areas of defense and research. 
Use of real-world issues
 A huge contribution of the internet is access to real-world issues during classroom lectures.
Earlier, teachers did not have the privilege to bring forth multiple case studies and examples at the same time. They had to prepare the best stories and present them in class.
Some teachers are only prepared with hypothetical examples that may or may not sound relatable. With the advancement of technology, teachers are able to connect with students on multiple stories and issues at the same time.
In fact, live issues are easily trackable and visible anywhere anytime. Teachers often open the forum to ad hoc discussions on real-world issues.
Having access to the internet, kids enjoy discussions and brainstorming. Some kids are more confident due to access to facts and figures on the web. 
Online forums & boards
The inclusion of the internet has not only benefited from bringing information closer but also helped in bringing students and teachers nearer. How?
Advancement of the internet has offered a smart way to organize groups, forums, webinars, virtual communities, and more.
Students can connect globally with their counterparts and also indulge in group exercises without the worry of physical distances.
Listening, reading, notes, and feedback are all done at the same time without any hiccups. 
E-learning method
Learning has never looked so easy and affordable as it is today. To pursue a course or learn a new skill set, students need not cross borders.
Most e-learning platforms are executed online and designed to cater to all requirements of students globally. Websites like Coursera, Udemy, etc. are pioneers in the field of e-learning.
They not only offer paid and unpaid video recordings, but include assignments, Q&A's, resource materials, examples, and certificates, to provide a complete classroom environment.
Multimedia & Videos
Video-based learning is no match for any book or classroom lecture. Connecting to interactive videos through the internet creates an environment of creative learning which children find easy to grasp and remember.
Even if the child does not have a photographic memory, videos will definitely solve the problem. 
Word has it, students, especially children, do not find video-based learning boring. Continuous movements and intriguing storytelling make the process of education way more appealing than we know.
Many students have also noted that videos on various concepts on YouTube help in enhancing their classroom knowledge and helps in comprehending the subjects better.
For example, several students struggle with the workings of the human body or functioning of the motor, videos help in visualizing the concepts, and consequently, the theory stays in the memory forever.
E-books
One issue which several kids have faced in the past is the availability of books. And if the books are available, they are unbelievably expensive.
Technology played a crucial role in bringing cheap books to kids at extremely affordable rates.
E-books are not only inexpensive; they are easy to carry. The portability factor allows flexibility to study and brush through courses anywhere in the world.
How to Combat with Digital Distractions in Educational Setup?
While technology has made education easier, there are a number of new distractions and problems lurking around kids now.
As kids venture out with laptops and smartphones for educational purposes, they are also submitting themselves to the world of cybercrimes and online problems. One of the significant issues that most parents are wary of is the unfiltered content. 
Kids come across a variety of content online. Most of the time, the content is unsuitable for their age, and yet they get an unrestricted view of the content without any hesitation. It is difficult to cut down on a child's curiosity. However, it is easier to put certain restrictions on them.
The Bit Guardian Parental Control is the most important invention of humanity that safeguards kids from unnecessary dangers of the digital landscape.
Kids will be unable to come in contact with online criminals.

Avoid encountering cyberbullies.

Coming across harmful, sexual, adult, and violent content.

Avoid meeting and befriending online strangers.

Safeguard kids' confidential data online.
Parental control is well-equipped to filter down the child's online rage and excitement to a certain level. These applications come with:
App Blockers to block unnecessary and illegitimate apps like dating platforms

, porno videos, etc. from kids' phones.

App Install Blocks stops the installation of new unknown apps.
Kiosk Mode cuts down the app menu to only a few critical and educational apps.

 
Besides the app controllers, these child monitoring and tracking apps benefit in child GPS tracker and Anti-Theft android app. Download the app today!

Educational technology tools and Kids safety apps
It is a universal fact that evil and good energy evolve together to balance the world. Similarly, the advancements in education technology are enjoyed only when online threats are overpowered using kid safety app.
Are you ready to explore the benefits of technology in education for your child?