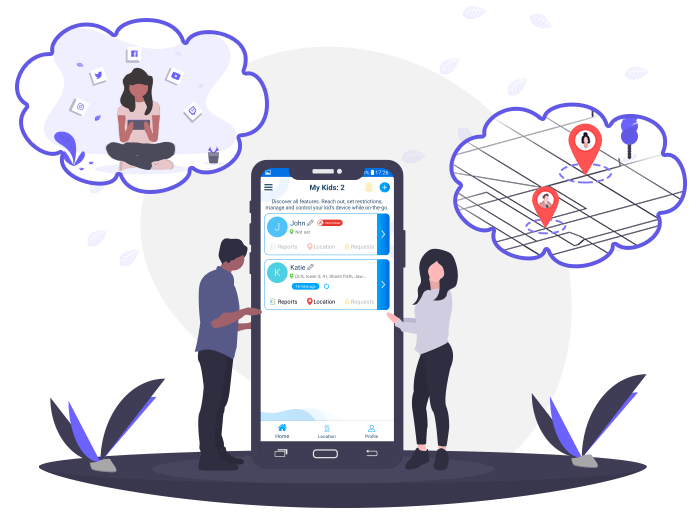 How to ensure your kid's safety in this alarming digital era? The answer is – parental control apps for Android, to keep an eye on their online activities.
With the advancing technologies, it is becoming more and more challenging to provide the kids with a normal, 'gadget-free' childhood. Meanwhile, it is a necessity to make them aware of the risks associated with overexposure to the Internet.
So, ultimately, it is the parents' responsibility to ensure that their kids spend a minimum amount of time on screens and concentrate more on the essential tasks. Let us find out the best Child Phone Tracking Apps for Android that help parents to carry out that duty.
Top 10 Child Trackers and Monitoring Apps for Android
Bit Guardian Parental Control App

Bit Guardian is one of the best

child phone tracking apps for Android

, which is very simple to install and technologically advanced.

The app allows parents to block objectionable and addictive apps.

You can schedule your kids' bedtime and access to other apps, which will help them to follow a proper routine.

It allows parents to assign selected apps on the kids' home screens, making them customized.

It allows you to create a geofence – virtual boundary around your child, and you will receive instant notification when they cross it.

Your kid can send you a panic alert in an emergency, and you can rescue them.

If your child's phone is lost or gets stolen, you can locate it with this app.

Net Nanny Parental Control

Net Nanny is a wonderful

child phone tracking app

, which has excellent design and excellent web filters.  

It can track your kid's location, display their location history, and set time allowances and schedules.

This app enables you to block all those apps that you find inappropriate for your child.

You get instant reporting of Internet searches and updates on the apps they use.

If your child views any of the unsuitable/violent content, you get an instant alert.

It also provides you educational insights and descriptions from experts about installed and trending apps.

Norton Family Premier
Norton is one of the

best child phone tracking apps

with an extensive feature set and great web filters.

This app allows you to easily access the location of your kid device without making them aware of it.

You can also block websites and track their web browsing history, including YouTube history, and web browser.

This amazing app provides you location-tracking, time-scheduling, web-filtering, and monitoring of your child's online activities.

Kaspersky Safe Kids

Kaspersky Safe Kids is a free

child phone tracker app,

which enables you to track the location of your kid.

You can also access their messages, call logs.

It allows you to block the websites.

Qustodio

This fantastic

kid tracker app

, allows you to set screen time limits and monitor web/YouTube activities on a child's device.

It lets you block adult content.

You receive activity reports daily.

By setting limits on their apps and games, you can control your child's

smartphone addiction

.

This app allows you to track and block kid's calls, monitor SMS.

You can find your child on the map, and they can press the SOS button to let you know that they are in danger.

ESET Parental Control for Android

ESET

parental control app for Android

permits you to locate your kid at any point of the time remotely.

It displays suitable apps for your kids based on the Google Play content rating.

You can set maximum usage time for the given day or prevent your child's access to specific categories during school or bedtime.

This app lets you oversee the apps your child uses without blocking access to them.

Being a fantastic GPS tracker, you can find your kid's location.

MMGuardian

MMGuardian sends you an alert when a potentially improper image is sent, received, or stored on your kid's device.

You also receive specific alerts when the content of your child's SMS text messages indicates

cyberbullying

, violence, suicidal thoughts.

It allows you to block SMS or MMS messages with undesirable contacts.

You can locate your child's phone as well as block and monitor their phone calls.

This app enables you to

limit screen time

with a comprehensive App Control function.

Lock your kid's phone at predefined times by using this

parental control

.

Family Locator – GPS Tracker

This app has an exclusive and private channel, called Family Messenger, which provides all family members to send and receive text messages.

You will receive a notification if your kids are crossing the speed limit that you have assigned.

It sends you an alert when they arrive at school, home, or any place that you have determined on the family map.

FamiSafe – Parental Control & Location Tracker
FamiSafe is a reliable

parental control app

that

protects the kids from harmful online threats

It allows you to locate your child's device remotely from anywhere at any time.  

You can block inappropriate content to protect your kids by app blocker and web filter.

With the help of this app, keep an eye on your child's location when they are not at home and also check their location history.

It sends you an app activity report and has smart schedule features to give your kids a reasonable bedtime and limit distractions during studies.

Secure Teen Parental Control App

SecureTeen

Parental Control App

helps you to control the screen time

of your children so that they can get more time for the activities that really matter.

This app lets you filter out all the malicious content to help your kids enjoy all the good that the web has to offer.

You can set a time limit for your kid's screen time and keep a check on their online presence 24/7.

Block the unsuitable apps and also schedule their usage.

It lets you monitor all text messages sent and received and the call details on your child's phone.

You can track all Facebook activities and get alerts for suspicious friends and posts.

Use this app to track your kid's location to ensure their safety.

The best parental control apps can help you track your kids, see with whom they are communicating, prevent them from viewing objectionable or dangerous websites. In turn, it will help kids understand the limits while preventing them from seeing unsuitable content.
Be a contemporary parent, take advantage of the technology, and use the best child monitoring app to secure your child from the risks of the Internet.