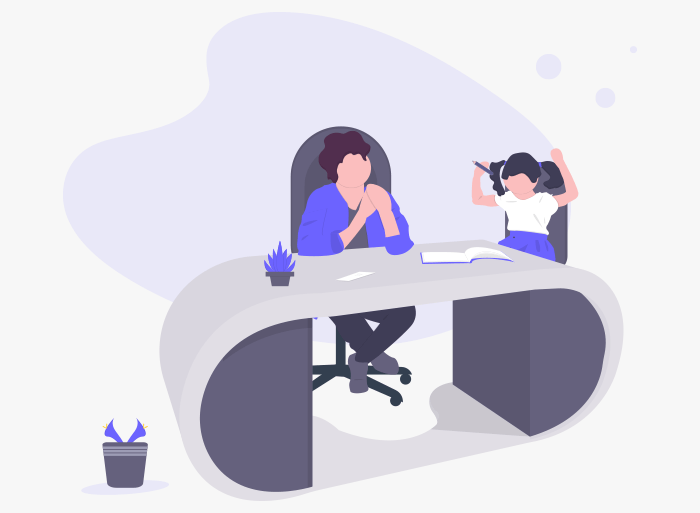 Establishing a proper routine helps to inculcate good habits from early childhood. Bit Guardian Parental Control allows a parent to set a schedule for children.
Kids thrive with structure; parents must get them accustomed to routines from an early age. Whether kids are waking up in the morning, having meals, playing outdoors, or getting ready for bed, they need to have a routine in place.
We know that changes provide you with a learning opportunity. But children take a while to get adapted to the things inciting a disturbance in their schedule. The fear of the unknown makes them stressed.
Kids don't have a lot of control over their lives, but routines give them a sense of organization, stability, and comfort. Apart from having emotional benefits, the routine provides health benefits as well.
Assure your children the safety and security that they deserve with phone monitoring apps.
What can be a daily routine for a child?
Bedtimes, bath times, mealtimes, and nap times

The time they take to get ready in the morning

Household chores such as dusting, vacuuming, cleaning, gardening, and cooking

Family time must include 'cuddling time', particularly when they are young.

Playtime, comprising outdoor activities in the sunlight

A restrictive screen time
10 Reasons a routine is essential for your child's development
Helps your child to get accustomed to day-to-day activities
Have you heard of a circadian rhythm? It is a biological process that regulates the sleep-wake cycle and repeats roughly every 24 hours. Yes, it is a body clock that functions optimally when we follow the routine.
A well-organized routine helps your child with many day-to-day basics, such as:
Ability to take naps at definite times

Going to bed/waking up at a fixed time

An inclination

 to eat nutritious and full meals regularly ensures a healthy immune system

Playing outdoors paves a path for a well-built adult.

Strengthens a parent-child relationship
Children learn a lot by observing the elder's behaviors and their surroundings. That's how they start knowing what is expected of them. They begin understanding the values of a family, interests, and culture.
For example, the child might notice that due to professional commitments or other reasons, their family can't have lunch together. But everyone tries to remain present for dinner.
Following a routine also makes sure of saving time, which family can utilize to make their bonding stronger. Even if your child is young, they soon pick up on the family traditions.
Never let this bonding be severed, utilize app install blocker to avoid your child falling in the trap of devices.
Limits disagreements as kids are aware of what to expect
When a child is used to brushing/bathing routine before/after bedtime, you don't have to persuade or scold them every day. If a child is accustomed to pick up the toys after playing or clear the table after meals, they do not consider those tasks as arduous.
As a parent, you don't have to keep ordering them for completing the tasks or finishing meals. You become more like a friend to them rather than being a dictator, which certainly helps when they become techno-savvy teenagers.
To monitor your kids in the digital world, use child monitoring apps.
Maintains a peaceful environment at home
Everyone knows what to expect when, so stress and anxiety are reduced. The child feels responsible when their opinions are asked and valued. They turn out to be happier and more co-operative, sparing you the need to yell.
Kids having a peaceful environment at home grow to be more emotionally intelligent adults who exude qualities of consideration and self-discipline. Overall, you may form a bond that will carry your relationship with your kids through their adult years and beyond.
Instils confidence and independence in your child
With a routine, a child soon becomes independent and start taking pride in knowing what they are supposed to do.
Whether at a family or a school, they feel confident to go ahead and take charge. You can't help but believe that a leader is in the making. Empowered by independence, children are less likely to rebel and fight back.
Parental control apps are a blessing to parents who are anxious about their child's safety in the digitally advanced universe.
Develops positive and healthy habits
Routine teaches and creates boundaries while a lack of routine gets in the way of respecting boundaries.
If you allow them to play after they are done with their school-work, at times they might miss out on playing for not being serious in homework. It helps them realize that there are consequences to their behavior.
They might be asked to enjoy a limited screen time only after they finish their nutritious meals. 
If you find your child getting addicted to the devices, use a screen time control app to manage their screen time.
Child begins to identify the level of priorities
A routine helps you stay on track. It might be trivial tasks such as remembering to pay the bills every month or the sequence in which you pursue ordinary jobs.
Some days, you might be occupied with professional commitments, but you still do not let important details slip from your mind. So, the household runs smoothly despite having everybody busy with their tasks.
Constantly changing world demands that parents keep an eye on their children all the time with parental controls.
Expectations for favorite ritual keeps them going through mundane tasks
If you as a family, follow a particular ritual on weekends, such as going to a church, planning play dates for your children or going to the park, the child remains excited with the anticipation.  
While going through these activities, the child gets a sense of safety and contentment. The feeling that the family loves them soars their confidence high, and they spend the weekdays merrily following a routine.
Excites the child for some special family rituals
A child is always ready for cuddling and pouring out a jumble of feelings with parents. You must try to make the bed-timings as comfy and converse as much as you can with your child.
These tiny moments play a huge role in developing a happy, satisfied, and confident child. The family that eats together, spend quality time together, stays together!
Trust your child explicitly but make them understand the necessity to use child tracking app for their security.
Pacifies a child during times of change
Changes invariably have stressful impacts on a child's life. Instances like parents going through a divorce or separation, changing the city, neighborhood, or school, or family on the way to expansion; challenges a child's sense of security.
It helps if a child is prepared in advance with positive suggestions. For example, if the kid is changing a school, you can say, "you are going to this amazing new school, where you make friends for life, have wonderful teachers to help you with education."
Comforting your child with affirmative words about the change helps for sure. 
How to incorporate flexibility in a routine that does not threaten the kids?
Children are capable of handling the change if it is expected and occurs in the context of a familiar routine. Neither the change nor a routine should be imposed without sensitivity. There are times when rules need to be broken, like staying up late to see an eclipse or leaving the dinner dishes in the sink to play charades.
Structure need not be oppressive. Establishing and maintaining routine has many benefits, no doubt, but it's essential to remain flexible. There are situations in life, which demand attention to keeping rules aside.
When you try to follow a schedule being stubborn all the time, the benefits will be reduced, and children may feel oppressed by it rather than freed by it.
How to set a child's routine with parental controls
Bit Guardian Parental Control is a kid safety app that offers various functionalities, addressing all the safety-related concerns of parents. It has a feature called 'Time Schedule,' which allows you to set bedtime. During those hours, the kid's phone would remain locked, denying them access to all the apps. 
For games, social-media-education apps, or any other apps, you can decide the day and the time when kids can use the individual ones.
It takes longer to understand that time is a luxury that no one can buy. Scheduling is the art of planning your activities such that you can achieve your goals and set priorities according to the time you have available.
With a screen time control app, help your child realize the effects of following a schedule on accomplishing the essential tasks.