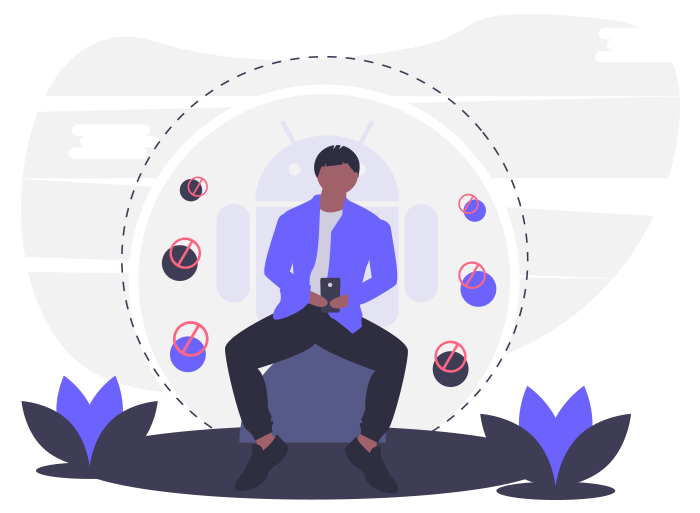 Do not allow your children to be overly reliant on phones as it might have detrimental effects on their overall well-being.  Find out how to lock app installs on Android with parental control to ensure their online safety.
10 Best App Install Blocker: Android Parental Control
1)

 

Bit Guardian Parental Control
Bit Guardian is one of the

best Android app blockers,

which is very easy to install.

With this app, you can block objectionable and addictive apps, schedule your kids' bedtime and access to other apps, customize their home screens.

It also allows you to

restrict app installation

.

Create a geofence – virtual boundary around your child and receive an instant alert when they cross it.

Receive a panic alert from your child in an emergency to rescue them.

Locate your kid's phone when it is lost or gets stolen.

2)

 

Safe Browser
Safe Browser is a cloud-based web content filtering browser, which can be remotely configured for kids to block porn, adult, gaming, and other potentially dangerous web sites.

This app allows you to create custom whitelist and blacklist for websites/domains. You can place shortcuts to whitelist sites on the home page for easy use.

With the help of this app, you can set your own web filtering rules.

You can configure web browser UI to allow address bar, searching, access to favorites, etc.

It allows you to have a free 15 days trial account for personalized web content filtering, where you do not have to make a purchase or provide payment information to create an account.

On license expiration, you have to buy a subscription via in-app purchase.

You can remotely manage web filtering settings from Safe Browser's cloud console at https://browser.kiddoware.com

The app offers voice-based navigation.

 

 

3)

 

Parental Control SecureKids
SecureKids is an

Android app blocker

to help you manage your children's devices.

It enables you to decide which websites your children can access, which applications they can use and install, whom they may call and send messages.

You can select from various web filters and block inappropriate web categories or create a list of pages where access is allowed for your child's device.

With the SecureKids, establish a maximum usage timer for any application, so they cannot spend the whole day playing their favorite games, instead focus on the essential tasks.

Know your child's current location with just one click.

You can block your kids' devices for a set time frame.

There is an emergency button, which, when pressed, emits a signal, sending the exact location of your child on a map.

 

4)

 

Safe Lagoon
Safe Lagoon is the award-winning

app install blocker on Android

that protects your children online against

cyberbullying

and helps you manage screen time on their tablets and smartphones.

It allows you to monitor SMS, texts, and many other messengers that children use nowadays.

With GPS, you can find your kid's location on a map.

Establish virtual fences and get alerted when they cross it.

You can monitor your child's app usage and web searches.

Block apps and games and also schedule their app time.

It enables you to lock or unlock the child's phone with a simple press of a button.

5)

 

Kids Place – Parental Control
With Kids Place, you can decide which app and tool your kids can access so that they can have fun online safely and conveniently.

You can block your children's access to Google Play, so they cannot download any app.

This

app install blocker

allows you to disable all wireless signals and lock the damaging functions for your child.

Kids Place enables you to set a timer to limit the use of the phone or just some apps by children and control their screen time in your absence.

Children cannot bypass

parental control

settings or delete the app. During the installation, you have to insert a PIN, without which it will be impossible to exit or delete the app.

6)

 

Parental Control Kroha
With Kroha, you can manage your kids' screen time, block apps, track location, website control.

Use the app to configure app lock – block games and addictive apps and set time limits for the child's phone.

Monitor the websites/YouTube videos your child frequents and block the ones that you find unsuitable.

Locate your child on the map in real-time.

Define a geo-zone and get notifications when a child leaves the specified zone.

Monitor and control your kid's phone book, photo gallery, battery level, call history, SMS history.

You can ask your child to use Night Mode in the evening to protect his/her eyes from intense blue light.

 

7)

  

Google Family Link for parents
The Family Link app enables you to set digital ground rules remotely from your device to guide your kids as they learn, play, and explore online.

Get daily, weekly, or monthly reports showing how much time they are spending on their favorite apps.

Monitor your child's apps and decide whether to approve or block them, disable Play Store, manage in-app purchases, and hide specific apps on their device, all remotely from your device.

Apply

screen-time control

on your child's device and schedule their bedtime too. You can lock their phones during the crucial activities.

8)

  

Parental Control – Screen Time – Website Blocker (Kids Timer Lock)
Kids timer is a free app that permits parents to lower the amount of time a child spends with their device.

You can block websites, apps that you do not want them to use.

Determine when your child can access the apps.

Lock your kid's mobile from a remote location.

9)

 

Teen Time
Teen Time gives you a wide range of tools to limit the usage of any games or other applications, receive device usage statistics, battery and sound status.

It also allows you to set up

screen time limits

and schedules, track movement, get notifications about arrivals into predefined places.

You can completely block games and entertainment apps, partial apps block, get app usage reports.

Teen Time also generates reports on websites/YouTube videos they watch, search queries.

It provides GPS tracking, geofencing, SOS widget, remote sound control, mandatory messages.

10)  FamiGuard Parental Control
FamiGuard allows you to block any of the unsuitable apps for your kids.

Its location tracking feature shows your child's real-time position with just a single tap.

By creating a geofence, get notifications when your child enters or exits the area you have defined.

The app enables you to monitor the target device and

limit

the

screen time

remotely.

With advanced web content filtering, you can select any category such as "Adult" and quickly and easily restrict your child's access to thousands of similar sites.

Be available for your children as much as you can, assure them that you are always there having their backs. And use any of the parental control apps as mentioned above to help them sail through intimidating the digital world.