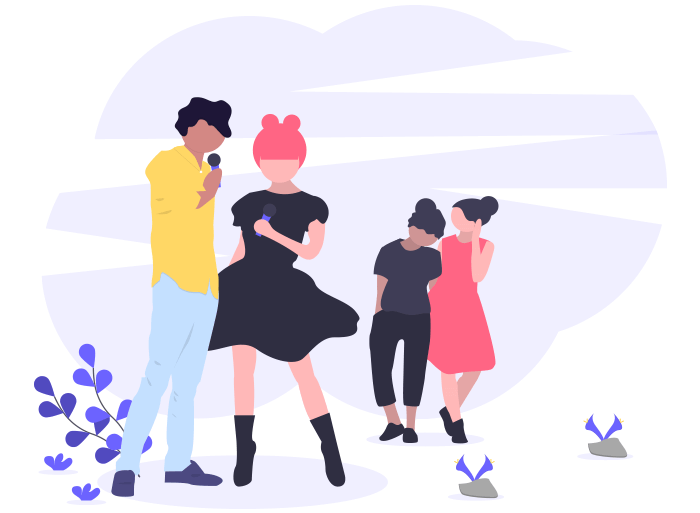 How many of you have used or heard about a GPS kid tracker app? Do your teens have an anti-theft mobile app installed on their phones? No? Are you sure your kids are ready for their first concert?
Paranoid Parents of Teenage Kids
A while back, the sensational boy band "One Direction" was conquering teen hearts with their mesmerizing songs and terrific looks. While teenagers were going gaga over the boy band concerts, parents started lost their sleep.
Parents crop up questions like – " Is 13 the right time for my child's first concert?", "Is my kid prepared for live music performance?"- come across whenever a teen's parent decides to send the child for a live gig.
Well, concerts are not as dangerous as they are made to sound. Even though teens alone with friends, without parents, a few measures and tricks can give both parents and kids peace of mind.
How Old Does A Child Have to Be to Go to A Rap Concert?
Teenagers are Eligible to attend concerts as they attain a certain level of maturity to distinguish good from bad and right from wrong.
However, it will be foolish to say that all teenagers showcase the same level of maturity.
Sending your teen to a concert is a good idea only when you have a contingency plan and a duly confirmed security measure.
Typically, a huge chunk of parent's panic and shoot up their blood pressures on having a conversation about concert nights.
Their first reaction is a "No," and the following statement quotes "unsafe." Well, that's a poor way of handling kids, especially today's aggressive teenagers.
Instead of saying no, it is essential to analyze the situation appropriately. Asking questions like, how many friends are coming? Who all will join you? Who will pick and drop you?
Check the preparedness of your child. Wherever they fault try to give them an appropriate solution, this will not only offer help but build trust in the child's mind.
So, before a parent plans to say a yes or no for a live performance of their kid's favorite band, it is critical to understand the issues lurking in a rock show.
Why Are Concerts Dangerous for Children?
Concerts are getting flashier and popular, but safety and security are still at low priority.
The last few years have seen stage crashes, stampede, fire, and what not which has taken lives and put several authorities under scrutiny.
Yet, here is a list of events that occur commonly in most concerts worldwide:
Stampede-

Cases of stampede have been reported after many live performances. Many fans, including security, were injured in the accidents. Although, authorities ensure there are no such cases, and enough barricades are installed yet people charge like bulls in excitement. During a stampede, mostly women and children severely get injured because of their weak physical body.
Use of abusive language-

Concert is a platform that allows artists to express freely with the audience. Often, in the excitement of communicating with the young crowd and producing a new cult, many artists deliberately use slang and abusive language. Even though one can moral police such incidents but beyond that, it is difficult to stop such practices in concerts.
Drinks and Drugs

– High school teenagers are new into the life of alcohol consumption and drug abuse. They are naïve and get carried away easily on setting their hands on a few resources. The main issue does not end here; these elderly teenagers target young kids at the concerts to try alcoholic beverages forcefully.
Chances of molestation-

Molestation cases in music performances often go unreported because targets let such incidents go off the window, blaming it on the crowd and unavoidable proximity of people. Well, let us enlighten you with the real scenario. For sexual offenders, concerts are a playground. They wait for such opportunities and then slip their hands into a child's shirt or pants. No, we don't intend to scare you but bring the reality in the foreground. And yes, this can be avoided smartly.
Theft and loss-

Not just teens, but adults too have the capacity to misplace and lose essential items in a concert. Often, it is the mere inattentiveness that causes us to become slack with our treasured gadgets and cameras in a crowded event. Even if you stay alert, there is still a reasonable possibility of encountering pickpockets and thieves lurking around. Within no time, they vanish with your smartphones and other gadgets you brought excitedly to capture your favorite artist.

Late hour drives- One big issue with the evening concerts is that they get over at wee hours, making it difficult for the audience to get commute and reach home at a decent time. Many people even get stranded at the gates for long hours, waiting for a cab. The scenario is especially risky for teens who barely understand the criminal minds and activities of the night. Some apps offer "Pick Me Alert" features which parents are oblivious to.
How Can We Send Our Teens For Concerts Without Worrying About Their Safety?
Teach how to be alert
The first and foremost lesson any parent can confer their kid is how to conduct themselves in crowded locations. Staying alert and attentive at all times is the first thing to do. Teens need to keep an eye for suspicious people and items. As an ethical citizen, one also should report it immediately to the authorizes. If teens feel they are being caressed or touched intentionally by a stranger, either they need to change their place or report such incidents urgently.
How to place your belongings
The foremost mistake made by children is handling their bags and belongings. In the excitement and emotional rush, teens often neglect their bags and expensive items. Pickpockets and thieves take advantage of such situations and grab those items without letting anyone know. Never keep a backpack on the back and messenger bag or sling bag on the side. All bags should face the front, right in front of your eye. If you are carrying smartphones or wallets, place it in the bag or keep it in the front pockets, never in the back pocket.
Maintain distance from strangers
We agree it's difficult to keep a safe distance in a concert and one can barely breathe, yet children need to stand in such a manner that they can avoid getting pushed and jostled by the crowd. Try to place a backpack (with no expensive items) between you and the person behind you. It is always safer!
Choose a strategic location to stand
Children and women should strategically place themselves in such a way that they are not in the center of the crowd. Stand near the boundaries and closer to the exit gates. This way you can avoid the last moment hustle-bustle.
Always call parents to pick up
Children should neither risk waiting for cabs at wee hours nor should they hitchhike to reach home. Both modes of a commute are dangerous for children and should be strongly avoided.
Bit Guardian Parental Control comes with an innovative feature that allows sending Pick Me alert notification to the parent along with the Google Maps location. Teens can utilize such apps to reach for help and request pick up from a reliable guardian.
Stay in a group
Two's company and three's a crowd does not stand true for a concert. It is advisable children go for live performances in a group and look after each other. This way, parents are also less worried about the child's security.
Avoid showing off gadgets
Although this can sound rude to your child and create a problem in their friend circle but showing off gadgets is the worst thing to do.  It's best to avoid devices in public places and attract unnecessary attention.
Kid Safety Tool to Keep Your Child Safe in A Concert
Amongst many tools and apps in the world, selecting a GPS tracker app and child monitoring app is a wise decision. Your teen will not only be able to enjoy without worrying about getting scolded but as a parent, you can enjoy some peace of mind.
Let your kids enjoy their first concert of teenage life while you gear up with the right Parental Control App. Download the app today!