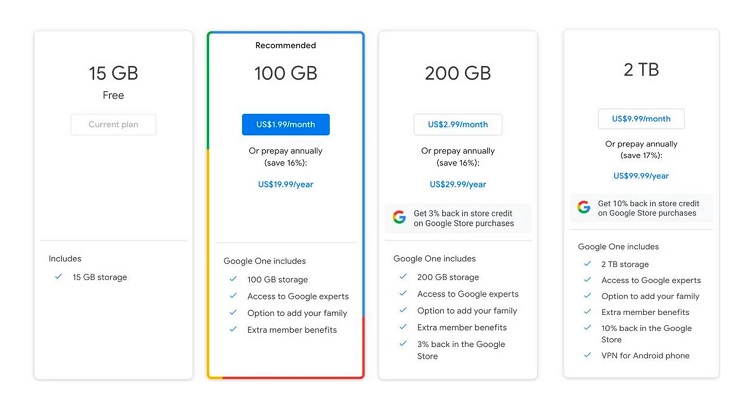 Users could store their photos, videos or documents on Google Drive, for free, if these do not exceed 15GB. Starting June 1st 2021, Google will ask users to pay if they go over this limit. Otherwise, it will delete their excess data.
No fear for what is on Google Drive now
According to the search giant, the move will affect any files on Gmail, Photos and Drive. So, this includes Docs, Sheets, Slides and all the other Workspace files.
Still, the files anyone uploaded on Drive before June 1 2021 would not count toward the 15GB virtual space. But from that date onward, they will. So, Google will delete the files of those users who will not choose a plan.
Learn about the plans
Five years ago, Google launched unlimited storage of high-quality photos and videos. High-quality means any image larger than 16Mp and any video higher than 1080p. Google Drive compresses those to save space.
Now, any file would count toward the 15GB account limit.
In order to keep everything that you want or need in your account, beyond the free limit, you will need a subscription.
According to the company, anyone can choose one of the three different plans. The cheapest costs $1.99/month, and will bring you 100GB. The most expensive one offers 2TB of space, for $9.99/month.
Anyone who decides to pay the subscription for one year can get the price of 19.99$/year, for the first one, and $99.99 for the most expensive one.
Would paid mean safer?
Google's decision comes just a few days after hackers attacked it's Drive users. They used the collaboration option – one of the product's most appreciated features.
Hackers invited users to collaborate on documents saved on Drive. But inside these docs, there were malicious links that the victims were asked to click on.
For this, they used two lures: a reminder that they could loose their accounts and "a notice" of a financial transaction.