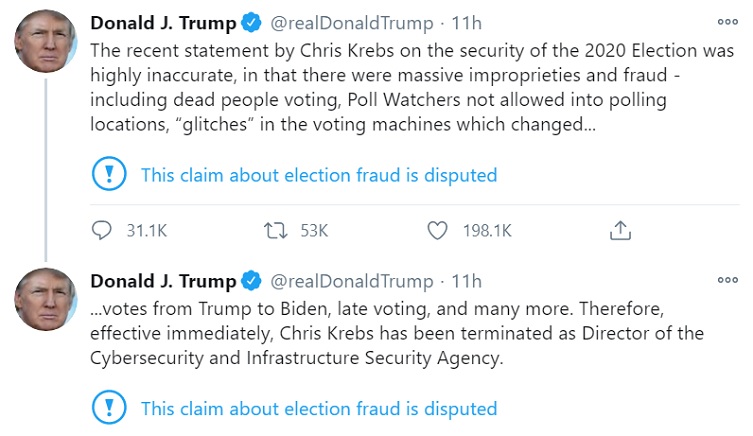 Trump fired Chris Kerbs, one of the senior US cybersecurity officials in the U.S. government. Kerbs was the director of the Cybersecurity and Infrastructure Security Agency (CISA), since November 2018. But Donald Trump removed him from this position.
US cybersecurity decided in a Tweet
Donald Trump announced he decided to fire Krebs in a tweet, late Tuesday. I order to support his decision, the president cited a statement CISA published last week.
The statement mentions that there was "no evidence that any voting system deleted or lost votes, changed votes, or was in any way compromised."
Before, the president claimed repeatedly that there was voter fraud, with no evidence. So, now, he tagged CISA's statement as "highly inaccurate."
Twitter labelled Trump's tweet 
Twitter decided to label the president's tweet for making a "disputed" claim about election fraud. The tweet comes only one week after Reuters reported about a possible firing of Krebs.
In fact, Krebs became the head of the agency in 2018, after Donald Trump appointed him. Previously, he was the undersecretary for the CISA's predecessor. Also, Krebs held security policy roles at Microsoft.
This happened as Krebs managed to prepare for cyberattacks and misinformation that affected the 2016 presidential election.
A "respected by everyone" man
Senator Mark Warner, a member of the Senate Intelligence Committee, showed his respect in a tweet. He said that everyone respected Krebs, "on both sides of the aisle".
In fact, Trump's decision comes after a few important CISA officials left the agency.
Brian Harrell, who oversaw infrastructure protection at the agency, resigned in August. Also, Jeanette Manfra left for a role at Google, last year.
Moreover, Cyberscoop mentioned recently that Bryan Ware, CISA's assistant director for cybersecurity, resigned for a position in the private sector.
The president's decision comes as he did not publicly accept the official results of the presidential election.