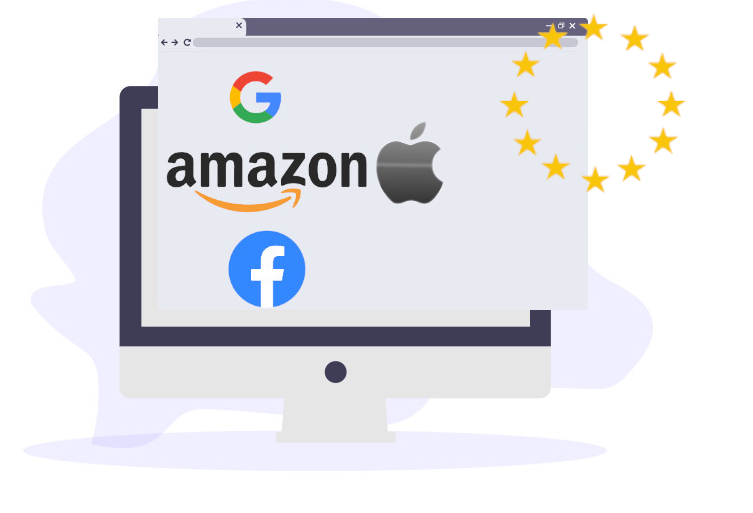 Important civil groups and universities call for the right of users to sue big tech, when these breach EU rules. Thus, Privacy International, the European Consumer Organisation and some academics involved in this. Their action comes when EU lawmakers and countries talk about the final points of the Digital Markets Act (DMA).
Individuals' right to sue big tech companies
The coalition of 31 groups and academics want to add their proposal to what EU's antitrust chief, Margrethe Vestager, brought.
According to the DMA's draft, there is a list of dos and don'ts for the big tech companies. These would affect all the giants: Apple, Google, Meta, Amazon and Microsoft.
Still, the draft would allow only business users to sue those companies that violate the legislation. So, the coalition is taking further steps.
According to the group, the DMA must enable even users "to bring enforcement actions for violation of DMA rules before national courts." And the EU lawmakers seem to be open to this idea. Still, EU countries have ignored this issue.
Moreover, they urged lawmakers and EU countries to allow representatives of civil society be parts in processes under the draft rules. Thus, they would reflect their needs in the Commission's decisions.
U.S. civil groups and big universities signed the proposal
Still, besides the EU civil groups, there are also U.S. signatories of the open letter. Among these, there is the Center for Digital Democracy and the Consumer Federation of America. Thus, they came next to the Civil Liberties Union for Europe and the European Digital Rights.
Their proposal also receives the strong support of the University of Oxford, the Vienna University of Economics and Business, and the University of Amsterdam.
Thus, the EU authorities might take these things seriously. If they will include them in the DMA draft, the rules of the game might change significantly for the giants.