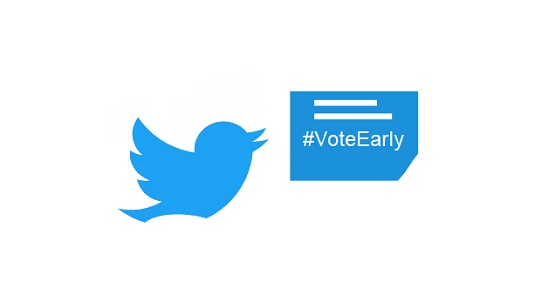 The social media paltform decided to support the early vote in the US elections. Also, Twitter is showing users how to search for their early voting options.
The company announced its decision today. Thus, any US Twitter user will be encouranged to vote early. Also, the platform will dispaly information from the BallotReady, a non-partisan organization.
As they say, BallotReady "is on a mission to make democracy work the way it should by helping voters across the U.S. exercise their right to vote and vote informed."
Twitter also urges users to spread the word, by retweeting the information about early voting with their followers.
Moreover, Twitter will ad interactive features to the tweets that include hashtags such as #IvotedEarly, #YoVoté, #VoteEarly, or #Ivoted. Among these, there is an animated "Like" button and a custom emoji.
Twitter mentioned it would send push alerts with more early voting resources as public service announcements.
The platform also took some other steps, in order to reduce the spread of misinformation about elections. So, it added both warnings and restrictions to misleading tweets. Also, it restricted retweets, but people can only quote tweets.
On October 20th, the platform made it harder to retweet as it is asking users to a quote tweet, before retweeting.
According to Twitter, the social platform "will continue to share reminders with voting deadline and resources. This would happen up to the election day. Also, the news posts on early voting have come in today.
All the measures that social media platforms and search engines came with happen as there is a huge interest in the U.S. election. Microsoft announced last month that US election became the target of Russian hackers.
Facebook also reacted, by rejecting the ads that were trying to "obstruct voting" in the coming election.