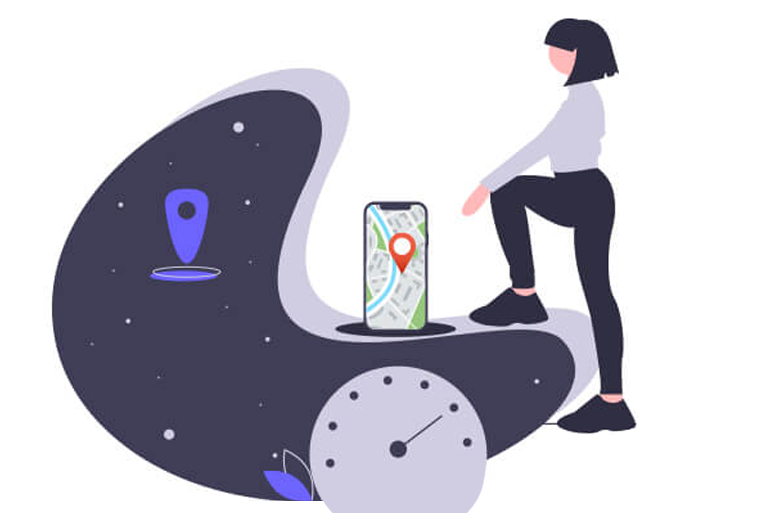 Are you also a parent with queasy nerves whose first thought is always about the safety of their children? Do you know a geofencing app for Android allows you to create a virtual boundary around your child? Yes, it does! First, let us find out why geofencing is needed.
Bill Clinton has righteously given a voice to every parent's concern, "There is nothing more precious to a parent than a child, and nothing more important to our future than the safety of all our children."
People who do not change with time are the ones making excuses for their failures. In today's fast-paced era, everyone is busy with their schedules, and parents are not an exception either. They need an assurance that their children are safe even when they are not with them to keep an eye on.
What is Geofence?
Geofencing is a feature that uses the GPS (Global Positioning System) or RFID (Radio Frequency Identification) to define virtual boundaries around a particular geographical location.
It is nothing less than a blessing for parents who have parental controls with geofencing enabled in their kids' devices. As soon as a child's phone enters or exits the permitted geographical boundaries, triggers are activated, giving notifications to the parent's phone.
How to convince your child about using the geofencing app for android?
You need to make them understand the reasons for you wanting to use parental controls. They must realize that you do not have any ulterior motive behind the installation, and their safety is your foremost priority.
Having a strong relationship with your child, based on mutual trust and understanding, always helps in the long run.
How to implement a geofencing app for Android?
After convincing your child about the installation, you have to download one of the parental control apps for android. Then, you have to follow the instructions (which are simple in most of the cases) until you establish a connection with your child's phone.
You get an immediate alert as soon as your kid steps in or out of the geofence. Below mentioned are the best geofencing apps you should think about installing for your child's safety.
Top 7 geofencing apps for Android
Bit Guardian is a renowned child tracking app that allows you to establish geofence surrounding your kid.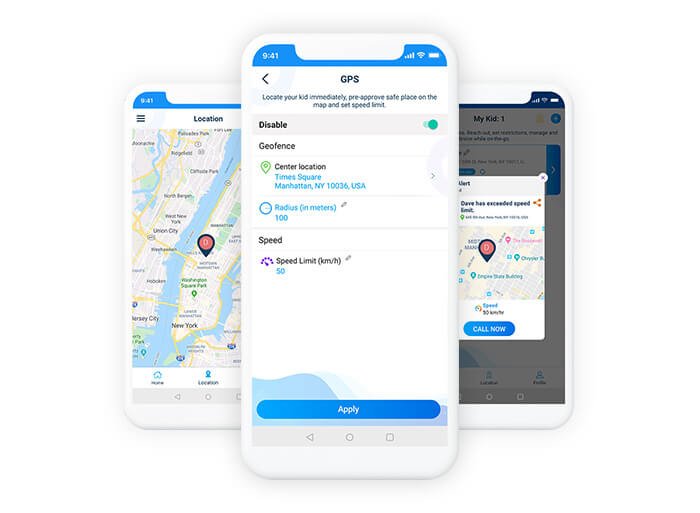 Establishing Geofence with Bit Guardian:
Define a center location depending upon your child's schedule.

Assign a reasonable boundary in 'radius' (meters) (minimum radius should be 100m)

You will be notified whenever your kid crosses the permissible range.
Children are thrilled by the speed, and the dangers of road rage are unfamiliar to their young minds. This feature allows you to set a speed limit(km/h) too. Whenever a child exceeds the designated speed limit, you receive a warning.

Spyzie is an amazing child monitoring app, that permits the user to keep track of their loved ones. It does not require rooting or jailbreaking and is compatible with iOS as well as Android.
Image source: https://www.spyzie.com/
It is a secure and safe application that renders services to customers across the globe. There is an invisible mode so that children do not suspect parents' virtual presence.
It is simple to create geofences using Spyzie, and parents receive notifications in time. The ultimate edition of Spyzie has some additional features, and costs a little more than the premium edition.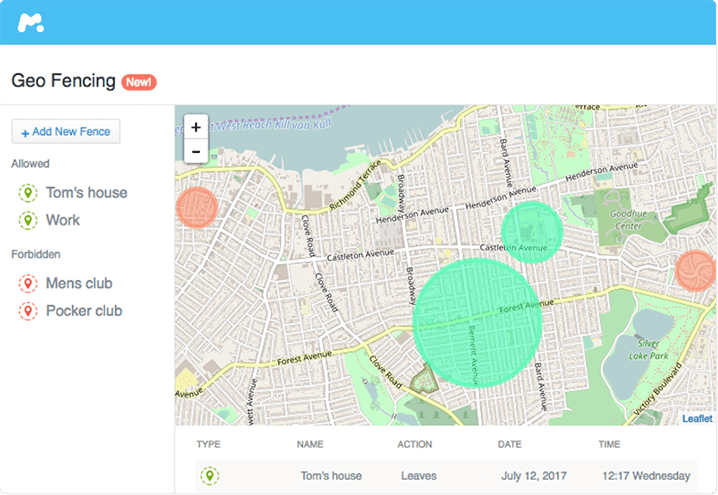 Image source: https://www.spyzie.com/
mSpy is a wonderful app that provides monitoring solutions worldwide. With a high ratio of customer satisfaction, mSpy is known for its unfailing service.
mSpy promises to protect your child and gives you plenty of scopes to monitor and track down your kid's trails. It is compatible with Android, iOS, Windows pc, and Mac OS.
The app is easily accessible and is free when you are installing it for the first time. It provides customer support 24/7 in multiple languages. The premium edition of mSpy offers quite advanced features, but it is expensive compared to the basic version.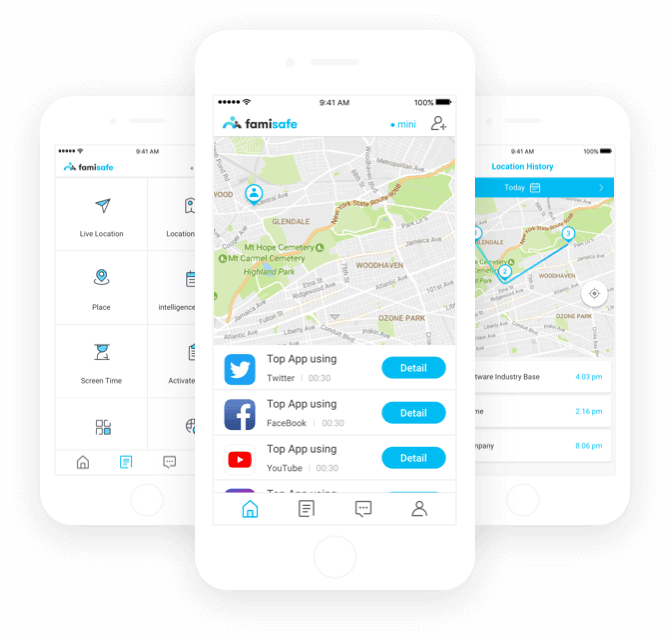 Image source: https://famisafe.wondershare.com/
This child monitoring app lifts the weight off parents' shoulders by keeping their kids under close observations. Famisafe uses geofencing software to track the kid's current location and internet browsing content. 
FamiSafe allows you to create and monitor multiple geofences. The parent is notified whenever the kid enters or leaves the assigned areas such as schools, parks, close friend's houses, etc.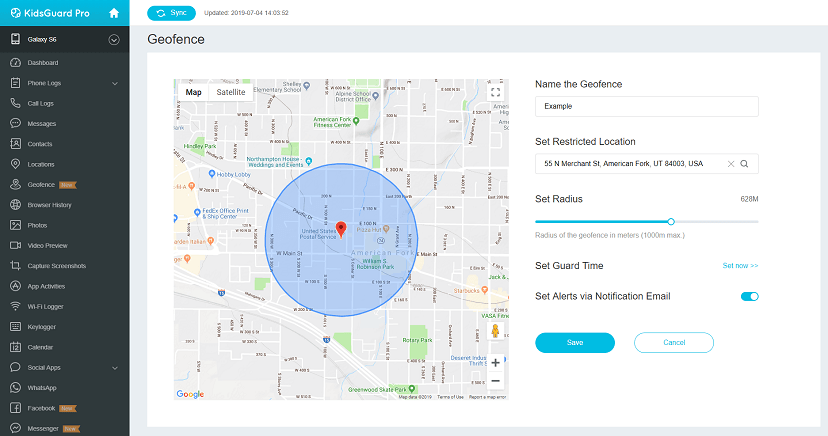 Image source: https://www.clevguard.com/

KidsGuard helps parents to access all the information on the kid's device. You need not worry about your children as you can track their whereabouts on the map and view location history in detail.
For geofencing, parents can select an area on the digital map, and the radius can be set up to 1km. The monitoring time of the geofence can be customized or adjusted. For example, allowing geofence to observe the child from 9 am to 9 pm daily.
Parents can receive geofencing alerts by email. They can check all the enter and exit events from a place with a particular time and date stamps provided geofence is active.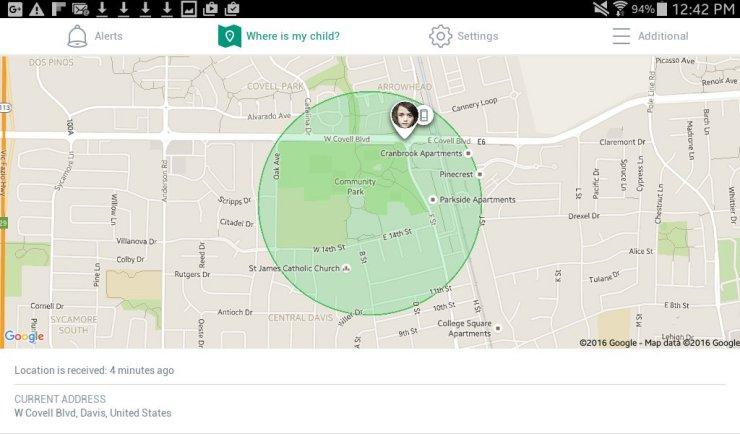 Image source: https://www.spyzie.com/
Kaspersky has made a name for itself in the industry by serving for about 20 years and helps in monitoring and tracking phones. It aims to protect the kids from online risks and provides a child's location.
It enables you to define a safe area for kids to stay in and sends an instant alert if they step out of it. Kaspersky also sends notifications if your kid tries to access any unwarranted websites. It can be installed on a PC, Mac, Android tablet, or Android smartphone.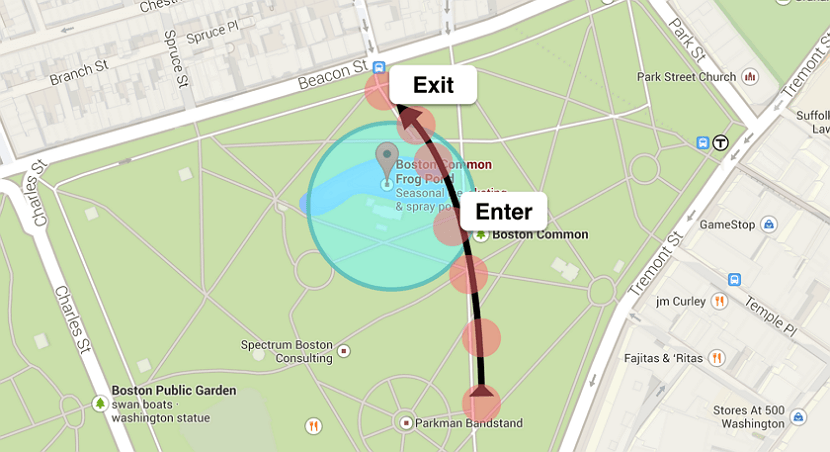 Image source: https://famisafe.wondershare.com
GizmoControl provides exclusive security solutions for Android. Its geofencing feature is pretty accurate and easy to use for protecting kids from various harmful threats online.
This fantastic child tracking app consists of various features such as child internet/device supervision, family locator, family device management, etc.
Using parental control apps does not indicate that you are not trusting your child, or you are a controlling parent. It merely shows your apprehension and cares about their well-being.
In a 'dog eat dog' world, it is mandatory to be on guard all the time. If an apple of your eye is far from your eyes, then you must definitely use the geofencing app for android to keep them under the radar.