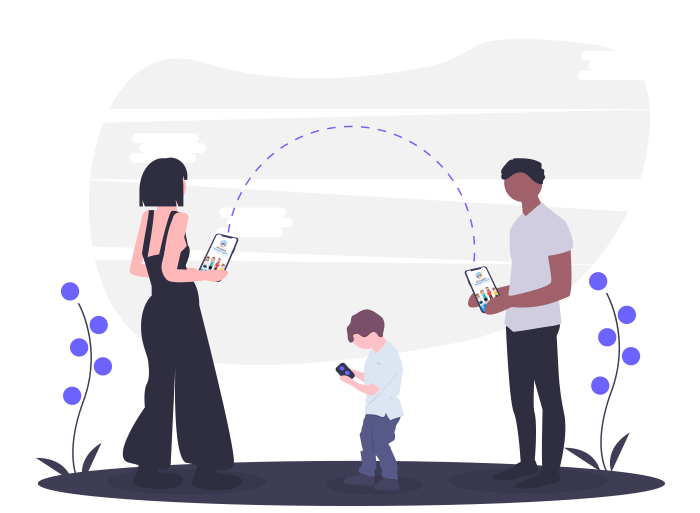 Parental control apps are parent's co-partner in raising today's tech-crazy, screen hooked children.
Shockingly, this generation is more active on their screen lives rather than with their real lives. And we, parents, are left with no choice but to accept this generational change! 
But what triggers our worry loop is increasing cybercrimes and age-inappropriate online content. This article is a dedicated effort to solve our parental anxiety.
First of all, we should understand the possible harm of unfiltered digital exposure. Then we shall talk about the solution!
Why Should We Worry About Kid's Digital Life?
Before jumping into the solution, let's understand the degree of dangers to kid's online presence! 
Here is a quick view of possible online threats that our kids may invite by gluing to their devices!
Cyberbullying, online scams 

Online predators may stalk and blackmail

Age-inappropriate content 

Identity theft and hacking 

Phishing

Child Pornography
Do We Really Need Parental Control Apps?
As they say, iron sharpens iron! – its the technology which will sharpen parental part to combat these detrimental dangers.
Parental control apps for kid empowers us with smart tools to monitor, restrict, and safeguard our child's device activities.
As a parent, we have exhausted all the possibilities! Neither our kids will stop using their device nor all digital activities will ensure age-friendly content!
That is how smart ways to control a child's phone is crucial. After an elaborate digital survey, we found out that parents are using various kid monitoring apps to curb digital dangers.
Out of all apps, their most trusted app is Bit Guardian Parental Control. Let's see what it offers that today's parents trust it the most!
Features Of Bit Guardian Parental Control
This security guardian comes with two apps -one is for kids, and another is for parents. Parental control apps for parents help you resolve all your worries about digital life.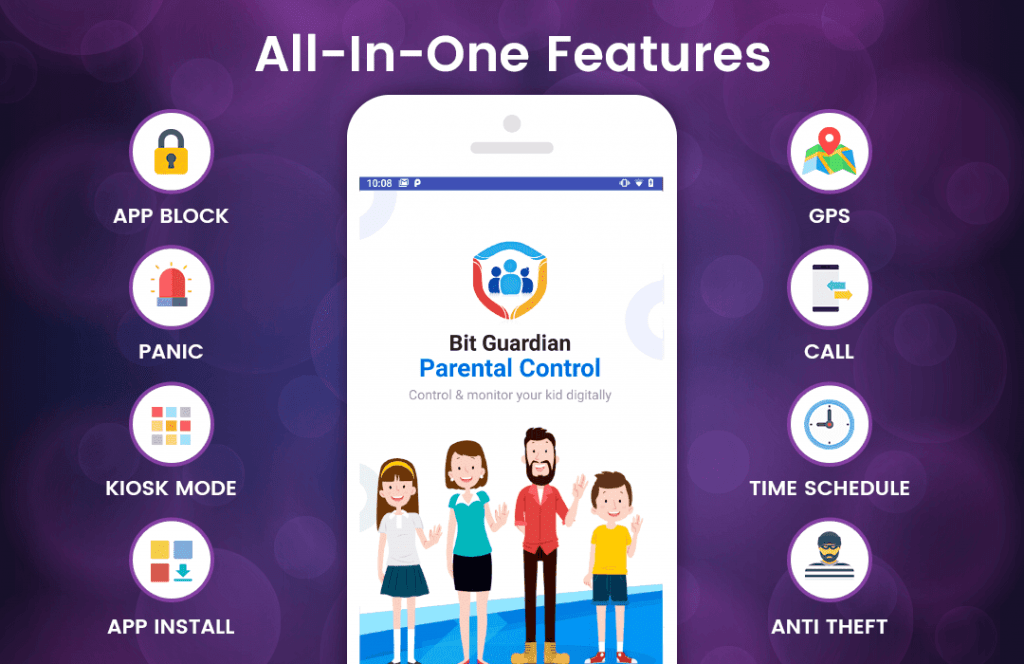 Have a look at its parental app's features.
App Block
Empowers parents to control which apps their youngsters can use on their devices.

An effective

child app locker

to block addictive and in-appropriate apps.

Stay relaxed with this feature, as it enables you to allow only kid-friendly apps!
App Install Block
How about entirely preventing your kids from downloading inappropriate apps from the play store?

By this feature, take full control of their app downloads!
Kiosk Mode
Secure your child(Especially younger kids)by allowing only a handful of apps on their device and restrict all other functionalities of the phone.

Customize a kid's home screen and enable limited apps!
Time Schedule
Combat screen obsessions of a teen by implementing strict

screen time control

for his app usage.

You can choose apps from different categories like social, games, media, education, etc.

Such curfew hours make them learn the value of time and effectively controls screen addiction.

Bedtime feature discards late-night screen usage. Only the SOS button will work during the bedtime.
App Time Limit
Another smart way to

control screen time

by restricting extensive screen hours.

Select a single or as many groups of apps as you would like to, and specify the number of hours kids can access these apps.

Increase their productivity by limiting extra hours.
Never settle for less when it is about your kid's safety. There are a few real-life situations that can threaten a kid's security. And real-world safety features of Bit Guardian parental control is on its toes to secure your children 24/7!
Real-world safety features
Panic and SOS
In an emergency, a child can press the SOS button from his device, and you will get a panic alert with the child's current location instantly.

This

child GPS tracker

can allow you to monitor your child remotely.
Geofence & Speed 
With this

location tracker app,

you can define a safe zone for your child with a central location.

Create such geofence with a minimum of 100 m radius.

You will get an alert with the child's current location every time he enters or exits this safe zone.

Are you worried about your teen's road rage? With this

Geofence app for android,

you can set his vehicle's speed limits too!

Get instant notifications whenever he exceeds your set limits! Catch him red-handed and ensure his safety.
Are you still comparing other Android Parental Control Apps, with this one?  Actually, you must!
As a parent, you need the best for your child's safety that's self-explanatory. 
But none of the other apps will resemble the below-mentioned unique features of Bit Guardian Parental Control!
Unique Features
Calls
Save your kids from stalkers and other potential threats by choosing who can contact them!

Block all known-unknown incoming and outgoing calls with this app.

This

call blocker app

allows you to block unidentified /spam numbers.

You can also block specific numbers from the contact list.
Anti-Theft

 
kids can anytime forget/misplace their devices. This feature is a fantastic solution in case of loss or theft of the device

As a

location tracker app

, it helps you to locate a kid's device even from a remote distance. You can ring kid's cellphone(it also rings in silent mode) from your device.

Apply factory reset from your phone to restore default settings.
Reports
Get detailed reports of kids' pursuits by panic, speed, geofence alerts, etc.

View what your kids are up to with these in-depth insights.
Requests
With this feature, Bit guardian values the concept of tender child monitoring rather than authoritative parenting.

You can get requests from your kids to unblock a particular app or to ease screen time control.

 It's up to parents to agree or deny such offers.
Download the parental app to enjoy total control of child-shield digital monitoring.

Bit Guardian Parental Control App For Kids
As they say, this app offers an additional layer of online protection for kids' safety. It works in association with the parent's app.
A child device will have Pick-Me -Up feature, which enables you to get alert of the child's location, and you can pick him up in ungodly hours.
Apart from that chid device will have an SOS button on his dashboard.
Purchase the Bit Guardian Parental Control app for parents and get the Kid's app for free! Download your free Bit Guardian Parental Control for Kid. 

Call It A Conclusion!
Rephrase your parenting methods with this digital generation. Allow them to fly high with technology and various digital nuances but monitor their activities for safe navigation.
Moreover, an effective app can curb his screen addictions and help him to boost his real-life productivity with digital resilience.
This year will come with endless new digital platforms and cyber activities. Ensure your child's digital safety in 2020 by a parental control app. After all, it's better to be safe than sorry!