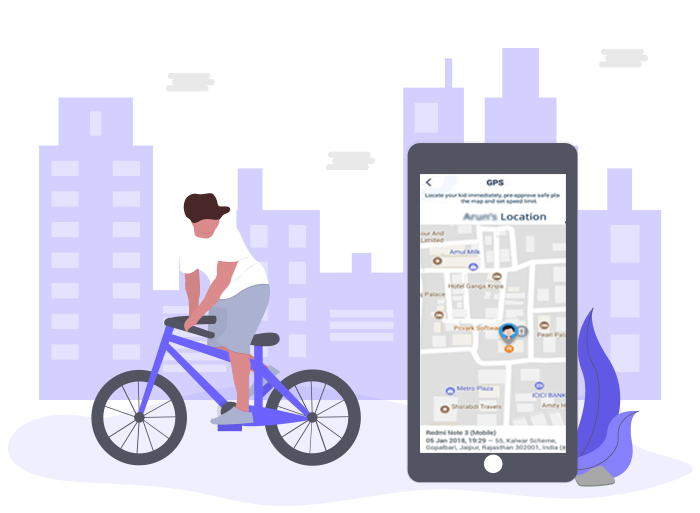 Are your kids under surveillance? Are you making use of parental control and kid safety apps? If the answer to these questions is NO, then read ON!
The Global Positioning System (GPS) is a versatile and prevalent asset for many industry domains. Why should parents of the digitally-driven generation stay behind? Keep track of your kids and their phones with the Bit Guardian Parental Control.
Ultimately, you have the parental control software that allows you access to the precise location of your kid when in crisis.
Prepare Smartphones to Optimize GPS in Bit Guardian
Bit Guardian can be installed on any smartphone that has 4.4 KitKat and above versions of Google's operating system for android.
Before installing the software, implement specific changes in settings, in both the smartphones(parent's and child's) to enhance the potential of GPS.
Go to

Settings

Tap on

Security and Location

In

Privacy

, keep

Location

'ON'

In

Location

, tap on

Google Location Accuracy

and have

Improve Location Accuracy '

ON'
3 GPS features of Bit Guardian Parental Control App
1)

  

Panic
In general, children are vulnerable, unaware of the perils lurking outside the safe havens of home.
Chances of them attracting mishaps are higher. Bit Guardian offers 'Panic,' which should always be kept in 'enabled' mode. This guarantees, a kid can send SOS calls from any remote location to a parent. 
2)  GPS
Isn't it great being able to create a virtual boundary for your precious child!
GPS should always be kept 'ON' on both the parent's and a child's device. Powered by this feature, a parent can virtually draw a 'confinement sphere' around a child. When the child abandons the granted area or arrives back, a parent receives an alert.
Blinded by 'teenage hormones,' the child is unable to pursue logical reasoning. Speed does not frighten them. To curb this unnecessary excitement, you can restrain their speed limit and get a warned whenever they exceed it!   
3)  Anti-Theft
Having your phone lost or stolen can be a nightmare. With Anti-Theft you can locate a child's phone on the map. Ring Alert makes sure the device rings even in silent mode, making it truly the best parental control app.
One cannot tolerate the loss of a device considering the private information stored by an owner. So, to protect your child's personal details, restore the phone to factory settings.
3 Benefits of GPS features of Bit Guardian Parental Control App
It makes parents more relaxed and calmer as they are not always agitated over their child's whereabouts. So, it reduces friction from the historically strained relationship of a teenager and parents!

Getting a warning about a child being in danger is a blessing, no doubt!

The ability to locate the phone when lost saves us from the awful consequences of having outsider privy to a child's sensitive details.
GPS is not the only feature that makes Bit Guardian Parental Control App as the best child monitoring app. It also serves as a screen time control app, enabling us to eliminate the risks of a sedentary lifestyle from our children's lives. Download the app for android devices.

Do not allow your imagination to question the infinite possibilities of a Global Positioning System (GPS). Instead, let us take advantage of what technology has to offer and shelter our children from digital assault.
Frequently Asked Questions
1)

 

What is the function of 'Panic'?
The

Panic

alert on the parent's device and the

SOS

button on the kid's screen work in tandem. Whenever a kid taps on the SOS button, the parent receives a panic alert on the dashboard.

The panic alert email is sent by default to the parent's email address.

For panic alert email, you can add up to 5 recipients who can take the necessary action in an emergency when a parent is unable to rescue.

2)

 

What is Geofence?
Geofence is permitting a parent to define the boundary for a child, where he/she can roam around.
A parent gets a notification whenever the child steps out or returns in the permissible range.
3)

 

How to set Geofence?
The following are the steps to set Geofence.
    Step 1: Tap the Parent dashboard open
    Step 2: Click on the Kid
    Step 3: Go to the Setting
    Step 3: Tap GPS and Enable it
    Step 4: Under Geofence, press on Center Location to choose an area where your kid is allowed to stay.   
    Step 5: Tap on Radius to set the distance in meters, click Apply.
Center Location and Radius in combination, define a perimeter which, when crossed, generates an alert on the parental device.
4)

 

How to set a speed limit on a kid's device?
Here are the steps to assign a speed limit on a kid's device:
    Step 1: Tap the Parent dashboard open
    Step 2: Click on the Kid
    Step 3: Go to the Setting
    Step 4: Under Geofence, tap Speed Limit to set the maximum acceptable speed for a child. A parent gets a notification if the kid exceeds the limit.
5)

  

How to locate a lost or stolen device?
      Step 1: Tap the Parent dashboard open
      Step 2: Press on the kid
      Step 3: Go to the Settings
      Step 4: Click on Anti-Theft.
If the location service is pre-enabled on a kid's device, then you will get the GPS location of the smartphone.
The emerging generation deserves nothing less than smart parents. Be on a par with your bright kids, adapt to modern technology, with Bit Guardian Parental Control App, bridge the ocean between you and your priceless child.