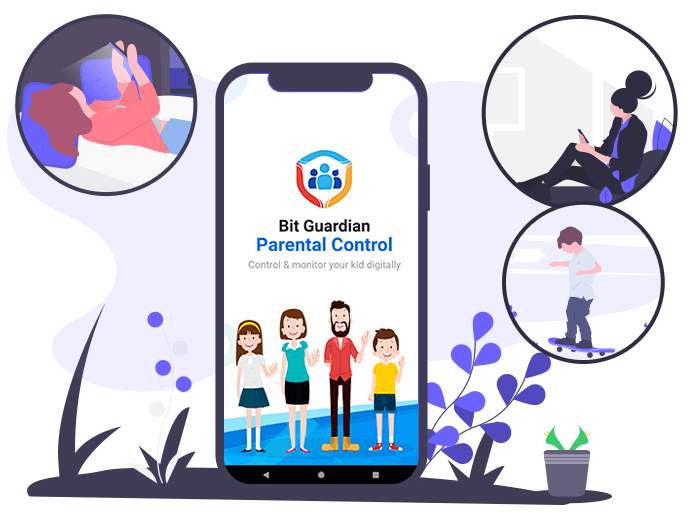 Why are parents obsessed with parental control apps? Are the screen time controls and app blockers helping children? Let's find out.
A technology revolution is magical, no doubt! Though there are a few questions we need to ask ourselves. Are we using it as a boon or a curse? Have we prepared our children for the threats of digitalization? Are we making use of child monitoring apps?
Fortunately, technology itself offers solutions to problems. Bit Guardian Parental Control is a child tracker app that provides relief to concerned parents. Before learning the detailed functionalities of this innovative kid's safety app, let us figure out what parental control is.
What is Parental Control?
One of the terrifying gifts of technology is watching your child getting trapped in the digital world. Is this the legacy we want to pass on to our future generations?
Parents are on a constant watch to ensure the safety and sanity of tech-savvy children. Even technology averse parents need to learn the art of handling devices so that they can remain aware of their kid's interests and whereabouts.
In simple words, parental control is: to monitor, restrict, and filter the content on another digital device. Consider a parental control app as your 'digital eye and ear' to a child's electronic world.
Introduction of Bit Guardian Parental Control app
Bit Guardian is a unique parental control app for android that arms you with the functionalities that you could have only imagined until now. It ensures that your child has access to age-appropriate content and limited screen time.
Bit Guardian is technologically advanced yet quite easy to install an app.

It sticks to the traditional Freemium business model, where you get a decent seven-day trial period before purchasing the premium offerings.

You need only one app for a parent and the child.
5 easy steps for installing Bit Guardian: Parental Control Software
Install the app to a parent device and select the 'parent mode'.

Create an account on the parent device.

Insert the password for the Data Protection Plan.

Add a kid with their name, gender, number, and date of birth.

Install the app in your kid's device. For login, you can either use the parent credentials or scan the QR code from the parent device.

9

 

Remarkable Features of Bit Guardian Parental Control app
1)

 

Panic
Calling it a 'lifesaver' would not be wrong! When kept in 'enabled' mode, a kid can send SOS calls from any remote location to a parent, who is the default recipient of the alert.
You can add up to 5 persons on the contact list. The parent receives an alert with an option to share the information with another responsible adult. It proves beneficial when a parent is unable to take action in response to the signal.
2)

  

App-Block
As a thumb rule, children are always attracted by the content that parents would never approve. Such is their age and the environment!
App-Block feature enables you to supervise all the apps installed in a kid's device. What's more, you can lock any unsuitable app such as gaming, dating, gambling, or adult apps.
Kids can request parents, from their dashboard, to unblock the app. It depends upon the parent's assessment, to allow or keep apps blocked.
3)

 

App Install Block
With the App-Install block feature enabled, a kid cannot download any new application from the 'Play Store.' Manual app updates also get blocked.
4)

 

Kiosk Mode
Having Kiosk Mode enabled allows you to customize kid's home screen. The list of all the apps get displayed, you have to select the ones you believe to be useful and appropriate. 
5)

 

GPS
How amazing it is to create a virtual boundary for your kid!
Establishing Geofence:
     

Define a

Center location

based on your child's routine.

     

Assign a sensible boundary in

Radius

(meters) (minimum radius should be 100m)

     

You will get notifications whenever your child steps out of the permissible range and also when he/she steps in.
Children (Particularly boys) are thrilled by speed. The perils of road rage are unknown to their young minds. This feature gives you a leash to set the speed limit(km/h) too. If a child crosses the assigned speed limit, you'll receive a warning.
6)

 

Calls
You need not be worried about anonymous or obnoxious callers tormenting your child anymore.
'Calls' gives you the authority to block unknown/unidentified/spam/specific numbers in the contact list. Blocking of numbers can be applied to incoming as well as outgoing calls depending upon the need.
7)

 

Time Schedule
With curfew hours, eliminate the distractions! This favorite feature among parents permits you to restrict screen time during crucial activities. 
Bed Time (Block device during sleeping hours)- By entering start time and end time you decide the sleeping hours when the child's device would remain locked.
Enter the specific timings for each of the following to designate the hours when a child will be permitted to use related apps.
  

Games

  

Social Apps

  

Media Apps

 Education Apps

 

Others app
8)  App Time Limit
You can select a single app or create as many groups of apps as you would like to. In the time section, specify the number of hours when access to the apps is granted to the kid.
9)

 

Anti-Theft
The loss or theft of a phone can be very strenuous. Anti-Theft enables you to locate kid's phone on the map; Ring Alert ensures it rings even in silent mode.
A device stores a lot of valuable information that one cannot afford to fall into notorious hands. So, to protect your kids' confidential details, restore the phone to factory settings.
5 Key Benefits of Bit Guardian: Parental Control app for Androids
The installation and features are self-explanatory and straightforward to operate.

There is nothing more treasured to a parent than a child. The panic

 feature is the need of the hour.

Kids cannot mess around with the app, without parent's permission.

Kids can request parents to unblock apps, change the schedule, or remove kiosk mode.

All the primary concerns of parents are taken into consideration and presented with perfect solutions.
Neither a parent nor a child can ever be perfect. But the parent-child relationship can be despite the difference of opinions and personalities!
Nurture this beautiful relationship and keep your child safe from the onslaught of technology. Bit Guardian Parental Control App is always there to look after the rest!