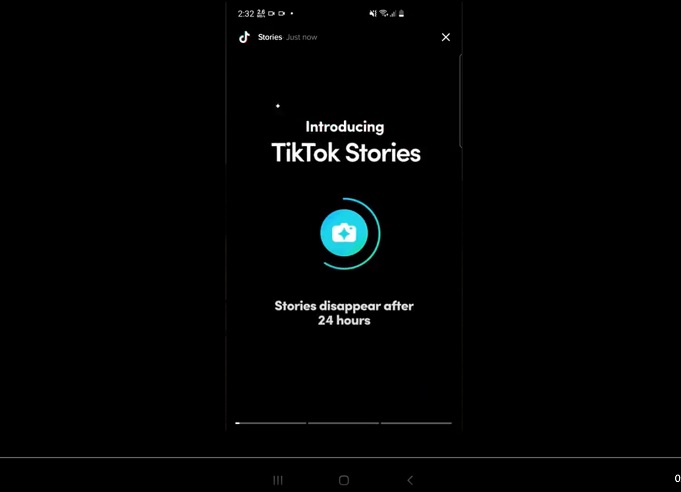 Image source: Matt Navarra
TikTok Stories might become the new feature on the platform, just after Twitter has discontinued its own spin on Stories. The company is currently testing it, which will allow for more creativity.
The TikTok stories will not replace other features
The company has released its newest feature, which would be an alternative to its current storytelling tools. This is not meant to replace the others. But it will be another option for its users.
TikTok didn't say how long their pilot test would run or if it would result in a public launch. But the test is only in for a few days – not weeks or months. The app is available in a few countries outside of the U.S., for now. So, the company is trying to gather feedback and insights from users in those countries.
The recent features found by social media consultant Matt Navarra are not yet available to the public. Now, it is unclear whether or not these features will be released in the future. If they do, they may or may not reach the public product. Navarra discovered these features through screenshots of TikTok Stories.
Twitter recently shut down Fleets, an example of a failure to introduce Stories on the social platform. Still, the they are very popular on other apps, such as Snapchat and Instagram.
TikTok users can now create Stories from their phone. They can add text, stickers, sounds, and effects to their content. It works like other platforms. Users can either upload videos or take pictures to make their story.
The main difference is the ability to comment publicly on others' content. Moreover, mutual friends can see them. Another tab shows how many people have viewed a Story, and if you're following those users.
How they work?
To watch other creators Stories, users should just tap on their photo in the new sidebar. Then, scroll through the latest posts.
TikTok Stories presents a new way for non-regular TikTok posters to get started. It's a more comfortable and familiar format that can enable them to engage with the app's tools. The feature can also provide creators with a way to interact casually with fans. But we need to note that the new feature also gives TikTok a larger place to run advertisements.
Will it beat Instagram?
Now, TikTok's feature is a direct shot at Instagram's bow, which offers an imitation of TikTok's Reels. Screenshots show that the feature is available in English and on Android phones. Still, TikTok did not say anything about which countries the new feature will be available in.
TikTok believes in exploring any creative tool that could help its users express themselves. This includes video, livestreaming, interacting with followers, or even short-form content.