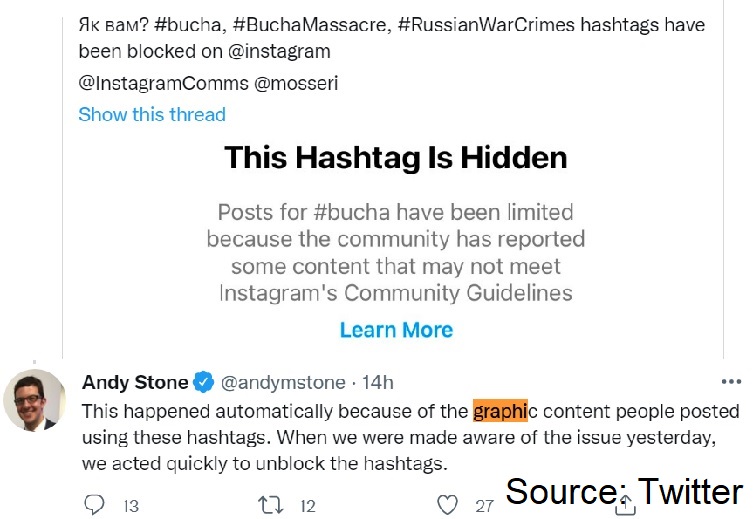 Meta decided to block hashtags related to images showing dead civilians in Ukraine, on Facebook and Instagram. The automated systems scan for violent images of civilians shot at close range and remove them. Afterwards, the company revised those
A company spokesperson confirmed that its automated systems scaned for violent imagery and also blocked the hashtags. #bucha and #buchamasacre were among those.
So, the company explained that "this happened automatically." The system's decision came because of the graphic content posted with these hashtags. Still, Andy Stone explained that "we acted quickly to unblock the hashtags," once the company "became aware".
According to their policy, both Facebook and Instagram allow posting graphic and violent content, for rasing awareness of possible abuses. Still, they delete it if the content is too explicit or celebrates suffering.
But for safety reasons, the social media giant adds warning labels to such graphic posts. So, users have to click through before seeing the images.
Criticism from human rights groups
According to human rights groups, the practice of removing violent content during conflicts is unacceptable. Thus, they argue that purging such data after 90 days means destroying important evidence of war crimes.
So, Stone came with an answer. He mentioned that Meta was "exploring ways to preserve this type and other types of content when we remove it." He also added that this would happen specifically with the content related to the war in Ukraine.
Such evidence would be extremely important, after Russia denied all the accusations related to the murder of civilians.
A Russian court banned both Facebook and Instagram in the country. The judge justified his decision by saying that Meta was "extremist."
On the other hand, Meta blocked online Russian propaganda media, in the EU.
In order to help its Ukrainian users protect themselves, Facebook allowed them to lock their social profiles