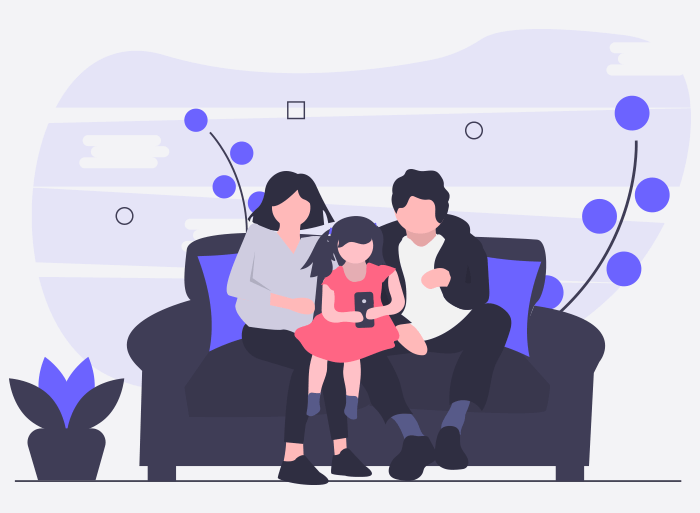 Keeping track of your child's online activities is a huge task, isn't it? The parental control app allows you to be in the know of your child's smartphone habits.
Today's kids spend a large amount of time on social media and messaging apps, meaning they are always in communication with others. They never realize how some of their favorite ways to keep up with friends might turn out to be their worst nightmare ever.
Parents work tirelessly to ensure the safety of their kids. But can you be with your child all the time to keep an eye on them? Child monitoring apps provide you a key to unlock your kid's digital world.
Why parents should know about dangerous apps
Every app that your child is using cannot be menacing. We know some of the apps can be useful to build a powerful social circle and to aid in their education. However mature and responsible your child is, at times, the allure of group and messaging apps is too strong to differentiate right from wrong.  
You need to know about dangerous apps to protect your vulnerable child from online safety hazards, such as cyberbullying, sexting, internet predators, and more.
We've compiled a list of the apps that you should not allow your child to use.
1)

 

Kik
Kik is a cross-platform app that allows kids to send texting, files, and photos.

It applies a limit on the number of recent messages to be saved. Parents cannot monitor their child's chats as it keeps only a certain amount within 48 hours and older.

Children get exposed to mature content, but there are numerous inappropriate chat rooms, cases of child predators using the app to contact children, and even child pornography.
Why parents need to worry: 
Kik is regularly making headlines as one of the most dangerous apps for children.

The app is rated ages 17+, but anyone can download it as there is no age verification.

Kik lets your child connect with others using a username only. It is very popular with sexual predators. Reviews in Play Store reveal that many people use it to meet strangers for sexting and

cyberbullying

.

Anonymity feature of the app has become a double-edged sword for the firm, for which company had to face heat from law enforcement.
           Kid's safety apps permit a parent to block unsuitable app that might prove unsafe for their child.
2)

 

ShamChat
The tagline of ShamChat is "Don't Be Yourself."

It takes pride in being a place where the user can be anything at all. 

On this app, kids can assume any identity they want and interact with others who are also pretending to be someone else.
Why parents need to worry: 
Children who are not comfortable in their skin might find the idea of impersonating appealing.

ShamChat is known as a place to carry on pornographic conversations and other sexualized behavior.
3)

 

Whisper
Whisper is a 17+ anonymous messaging app with a motto, "Share Secrets, Express Yourself, Meet New People."

Posts in this app are called "whispers," and users can sift through topics and then reply publicly or direct message to the child.

It allows users to connect in groups depending upon their interests and location to facilitate the confession of secrets.
 Why parents need to worry: 
When kids are online, they are open to anyone who wants to try and connect with them.

Users can set up anonymous accounts to make their messages/confessions overlay an image/graphic, which other users can "like, share, or comment" on. Before the child perceives anything, overly personal content goes viral.

According to a report, a 12-year-old girl in Washington was raped by a 21-year-old man who met her on Whisper.
          Save your child from the claws of digital addiction by using a kid's safety apps.
4)

 

Snapchat
As a fast-paced photo sharing and messaging app, Snapchat is extremely popular among teens and adults alike.

The app allows the user to send photos, videos, or messages to other users with a set amount of viewing time.

Once the user navigates away from the message or the time expires, it disappears.
Why parents need to worry: 
Children, in weaker moments, get tempted to take risks sending inappropriate images or content. They do not think about the possibility of the recipient grabbing a screenshot before it gets self-destructed.

The latest versions of the app can reveal the exact location of users via geolocation if privacy settings are not appropriately applied.

Snapchat notifies you if someone takes a screenshot of a photo or video you've sent them. But there is no way to restrain them from sharing this with others.

Snapchat has prevalent sexting, a growing problem among teenagers. You need to encourage your child to apply all of Snapchat's security features.
 

5)

 

Tinder
Tinder is a location-based web application and social search mobile app, most often used as a dating service. It allows users to use a swiping motion to like or dislike other users and permit them to chat if the liking is mutual.

The developers of the app describe it as "the fun way to connect with new and interesting people around you."

It is mainly used as a dating tool or an anonymous hook-up (one-night stand)
Why parents need to worry: 
The 17+ app allows teens as young as 13 to register (the app connects with Facebook to pull in photos for users' Tinder profiles).

Tinder helps people to find others in their geographic location and also to view each other's photos.

The anonymous nature of the app and geo-location feature makes kids at risk for catfishing, sexual harassment, stalking, and more.
How to identify if the app is safe for kids or not
It is an onerous task to keep up with the apps your kids are downloading on their smartphones. But to decide whether an app poses a threat for your kids or not is more challenging.
8 steps to determine if the app is safe for your kid or not
Make sure to download the app from Google Store only.

Select apps from well-known and trusted developers.

Check the ratings and go through the user reviews.

Download the app on your device for inspection.

Pay closer attention to permissions the app requests during installation.

Check out the features and explore the privacy options it provides.

Now that you have an idea about the app consider the maturity level of your child.

Talk to other parents to find out if they have any experience with the app.
How Bit Guardian Parental Control helps you block dangerous apps
Bit Guardian Parental Control is a child monitoring app with a variety of features to ensure your child's safety in the digital world. The following are its features that allow you to take care of the inappropriate apps.
App Block
Children under the influence of the environment get attracted by the content that parents would never approve of. App-Block feature enables you to monitor all the apps installed in a kid's device. Moreover, you can block any unsuitable app such as gaming, dating, gambling, or adult apps.
App install block
When the App-install block feature is enabled, a kid cannot download any new application from the 'Play Store.'
Kiosk Mode
Having Kiosk Mode enabled allows a parent to customize the kid's home screen, where you can keep the apps you believe to be useful and appropriate.

In addition to opting for parental control software, parents must also try to be physically and emotionally present for their children in their hour of need. No matter how old your children are, they feel assured by your interest and involvement in their lives.
Having an honest and open-minded conversation about the technology ensures to forge a strong relationship between the parents and a child. And Bit Guardian is always there monitoring your child to calm your anxious mind.