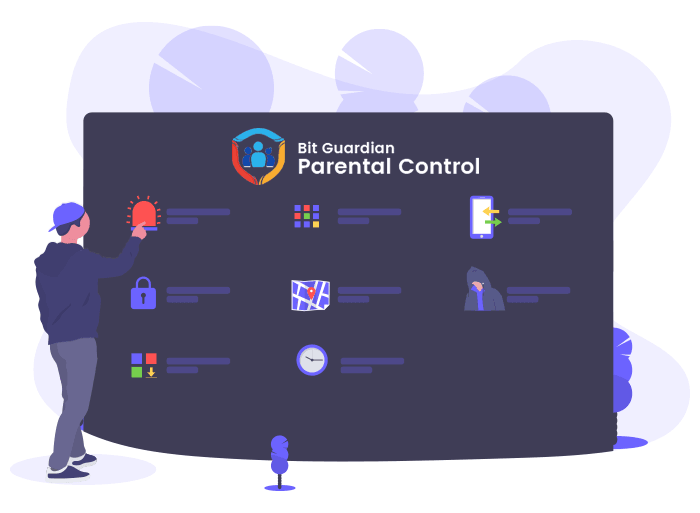 The market is inundated with plenty of parental control app features. It is often difficult to make a wise decision in evaluating the right parental control for your child. In all the chaos and confusion, here is a simple yet advanced parental control app that solves your child's addiction. 
Introducing you to the Bit Guardian Parental Control, which combats mobile addiction and safeguards kids from cybercrime. The app is the right mix of features and modern parenting techniques. 
So, let's dig deeper and identify what else the apFp offers today's parents in the digital age.
What is Bit Guardian Parental Control App?
A user-friendly app that offers advanced parental control tools to fight smartphone addiction in kids. 
The app is tremendously popular in the Android market because of its simplicity and target audience. Considering the major distraction is created by cell phones, this app concentrates on reducing kid's smartphone addiction by different tools. 
The app is currently available for Android users and gives excellent features.
The ala carte-based features make the customers happy because they pay for what they like. 
Bit Guardian Parental Control is a perfect example of an organized and productive application for controlling kid's cell phone obsession.

What are the benefits of Bit Guardian Parental Control App?
Here are some essential benefits parents can observe after using the parental control app:
Parents are generally unaware of kids' mobile apps. They can neither peep into their phones nor snatch the device to get knowledge. In such a scenario, the problem is to identify the apps and control their usage as soon as possible. 
The Bit Guardian Parental Control software offers an App Blocker that gives you access to the list of apps in your kid's phone and provides the right to block the apps in a jiffy. 
Restrict installation of the inappropriate app
It is always a wise decision to stop the installation of any new app without a parent's permission. On the same ideology, Bit Guardian Parental Control offers an App Install Blocker that disables the kid to download any new app from the play store. 
If the kid desires to install an app, they need to seek the parent's permission from the child device. This is an excellent method to track your kid's likes and dislikes in mobile apps.
Be wary of strangers calling your kids. These callers are usually identity thieves impersonating other people. They call kids and threaten them for sexual favors, money, and what not. 
In this scenario, it is a smart option to switch off all unknown numbers and block any suspicious number from your kids' phones. 
Of course, blocking apps is a good idea and works really well. But in some cases, blocking all apps from the kids' phone is unnecessary. Instead, during exams or a brief period, you can initiate a phone launcher that will give them access to all essential apps and get rid of any distracting apps. 
It is right to assume that emergency can knock our doors at, anywhere. If your kids fall in trouble, they may have only a few seconds to tap a button. The SOS button comes in very handy in such situations. By one click of a button, your kid's location is sent to parents and guardians. The parent will hear a loud siren indicating that the kid is in dire need of help.
Location of kids is another important aspect in today's world. You cannot put a leash on your kid's wants and needs; they may wish to travel places or enjoy new experiences with friends. In such cases, having a tracker enabled by GPS is a great idea. 
Your kid cannot be tracked only on the Map, but also by marking virtual boundaries. The parent will receive an alert each time the kid enters and departs the fence. Additionally, if you are worried about kids' road rage habits, then set a speed limit and track how many times your kid exceeds the speed threshold. Accordingly, you can decide whether to ground them or snatch the vehicle keys. 
Restrict unnecessary screen time
Screen time inevitably is every parent's biggest challenge. Kids are responsible for their poor vision and constant headaches. Sticking to the screen continually puts a strain in the eyes and causes severe headache and watery eyes. It is best to kill the habit at the right time. 
Using screen time controller, schedule a daily routine for your kid and deactivate the device during any crucial time in the day.
Who is not afraid of losing their precious phone and the data within it? Kids panic when they find out their phone has gone missing. Because without the phone, they have no motive in life and lose all their data generated after years of sweat & toil.
So, using the Anti-Theft feature in Bit Guardian Parental Control app is a wise option because it safeguards the phone as well as deletes all the data remotely to protect the confidential data. 
Hope the above points convince you why you need Bit Guardian Parental Control for your kids' upbringing. Take charge of their digital activities, and everything else will fall in place.