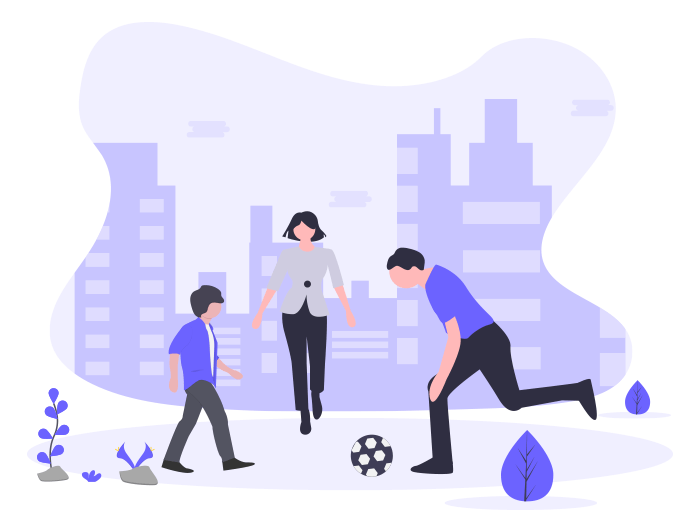 Who cares the most about a child's well-being and success? Their parents, right? And in today's digitally-fuelled times, parents not only need to guide them in the real world but also in the always-on virtual one. You can download a Parental control app that can work as a guardian to your child, protecting them throughout the digital journey.
For parents, knowing the apps that are safe for kids is of paramount importance. There are great apps that will engage your child and have them learning at the same time.
Let us understand how to make technology work for your child at each stage of their development. Below are the top 10 apps for teaching children life skills and responsibility. And you can always block the unwanted ones with parental controls.
Top 10 Best Apps to Teach Responsibility and Life Skills to Kids
1)

 

Faces iMake – Right Brain Creativity
For kids ages 5+
Faces iMake

– Right Brain Creativity encourages kids to create faces using collage materials.

Kids can share their creativity via email and social media with other app users worldwide in a special gallery called FaceWorld. But to be on the safer side, ask them not to share their real names while doing so.

The overall design of the app is very kid-friendly; it introduces kids to symbolic elements of art.
Parents still need to monitor while kids view the video lessons as the YouTube video suggestions that appear after viewing the lesson could be inappropriate for children. You can use child monitoring apps to keep an eye on your child.
Download For iOS
2) Toontastic
For kids ages 6+
Toontastic provides kids a stunningly easy way to create their own animated films.

Kids get to select the characters and setting for each scene, move the pieces around like they were playing with action figures, providing their own dialogue and a musical score with a suitable emotional tone.

Kids must not reveal personal information in their videos while sharing them with the Toontastic community and entering film contests. Use parental control apps for Android to ensure your kid's safety in the digital world.
Download For Android
3)

 

Rory's Story Cubes
For kids ages 7+
Rory's Story Cubes is the app version of an acclaimed dice game that encourages storytelling and creativity.

Try to have nine dice when rolled, where every die has a simple picture on it, such as a turtle, lock, word bubble, or flower.

It can be played in various ways, but primarily players use the images to create stories.

Stories can be created individually or in collaboration. It also includes the ability to lock the dice in play or to take a photo of the dice.
Download For Android
4)

  

Savings Spree
For kids ages 7+
Savings Spree is an educational game having the format of a game show, which aims to teach kids the value of money and how it works.

There are six topics, and each of them is taught through around in a game show where the final aim is to save money for a nest egg.

Kids learn about the principle values in life, such as earning or saving large amounts of money as well as about actions that save small amounts, adding up over time.

Kids can either play one round at a time or all six rounds together on a go.
Download For iOS
5)

  

The Oregon Trail
For kids ages 9+
The Oregon Trail is an educational simulation game letting kids know what it was like to be a pioneer traveling west in the 1800s.

While traveling in a historic wagon train across the country, the kid makes all the decisions, such as when to rest, what route to take, and what supplies to bring.

In the process, a child can talk to characters and play eight fun mini-games that make great use of the device's touch screen and motion sensors.

It has a mini hunting game for food where a kid has to shoot cute animals by tapping them with a finger. After getting hit, they jump up and then are replaced with a drumstick; no blood is shown.

Characters can die in the game, including members of your family.
6)

 

Project Noah (age 10)
For kids ages 10+ 
Project Noah allows kids to submit nature photos to help with global research missions, but there are privacy and safety concerns.

To use the app, the kid has to sign in with an existing account (e.g., Google,

Facebook, or Twitter), and full functionality requires access to their location.

 

After signing in, a kid can submit photos of wildlife with labels or can request others to suggest what species they are. Photos can be submitted independently, or they can join missions to provide specifically requested photos and help to document species.

Parents need to use child safety apps to protect their kids from getting addicted to the screens.
7)

 

Animate It!
For kids ages 10

 

Animate It! allows kids to create stop-motion animation videos with photos they take with the smartphone's camera.

The primary function of taking sequential photos and putting them into motion is surprisingly easy to use.

For younger kids, it may be difficult to understand how to take sequential photos in ways to make the best use of this app, but it can be fun for them to try anyway.

The kids who are into animation and have mastered the basics can feel empowered by taking their creativity wherever they can imagine.
Download For Android
8)

  

The Room
For kids ages 11+
The Room is a puzzle game, where players have to work their way through a series of interactive puzzle boxes.

The game sets a very mysterious, unpredictable tone that might make kids nervous, but its main purpose is engaging their mind, not scaring them.

Parents do not need to worry about adult content, commercialism, or language. But it is advisable to install child monitoring apps and create a safe world for your kids.
Download For Android
9)

  

Surviving High School
For kids ages 12+
Surviving High School is an interactive game that allows kids to take on different roles as students at the fictional 'Centerscore High School.'

Friendship, romance, and scholarly success depend on the answers given to multiple-choice questions at crucial junctures in the story.

Bullies and gossips are there just like in real life, but ultimately, even they are good at heart, and the language used is clean. Use

kid's safety apps

to protect your child from the

cyberbullies

. 
10)

 

Evernote
For kids ages 13+
Evernote is a hugely popular productivity tool that works across multiple platforms, providing easy access to lists, notes, images, sound, links from multiple devices.

This app is a great tool for students needing assistance with their executive functioning skills.

Kids get better with organizational and planning issues as the app requires the ability to make separate notebooks and tag notes for easy access.

The microphone feature can help kids having difficulty with verbal memory.
Bit Guardian Parental Control, a child monitoring app, offers a variety of features, permitting parents to block inappropriate apps, to prohibit the use of Play Store, to schedule and limit screen-time.
Use parental control apps and allow your kids to rip the benefits of the technology by letting them moderately use the apps that can teach them responsibility and life skills.