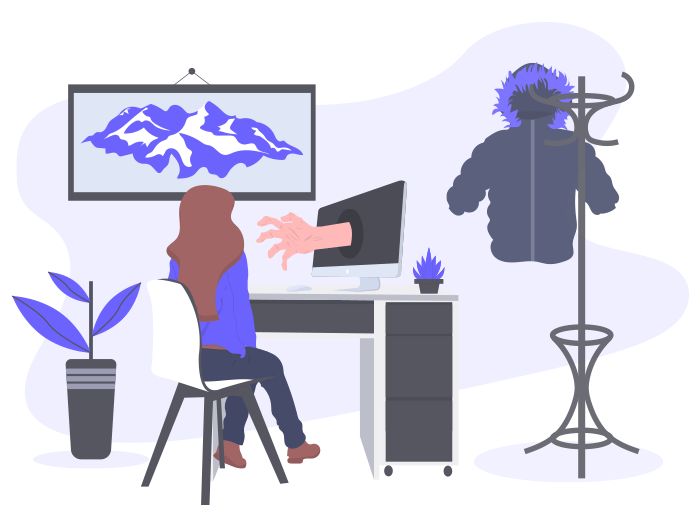 Armed with knowledge, parents can take the necessary precautions to protect children from online predators. Parental control apps provide valuable inputs to ensure the kids' safety in the digital world.
The Internet, a two-edged sword, is an indispensable part of today's culture, particularly for kids, who are dependent on the devices for schoolwork, online gaming, social networking, and entertainment.
Unfortunately, there is no universally accepted view of what is appropriate for children, making "inappropriate content and behavior" hard to define. Learn what cyber predators are and how to protect the kids from them.
What are online predators?
Online predators are people using the Internet to exploit naïve and younger people, mostly for sexual and other purposes. Cyber predators hardly reveal their true identities; they pretend to be someone else to gain the trust of their victims.
According to the estimations, one in five children has been sexually targeted online. Keep an eye on your child's online activities using Bit Guardian Parental Control.
Top 5

 

characteristics of online predators
Being manipulative, predators trick their victims into agreeing to their orders and throw them off their balance.

Always playing the commanding part in their online relationship, they look out for the persons whom they can empower to give in to their wishes.

Predators master the art of displaying a superficial interest in the victim's lives and problems.

Having lower self-esteem, they struggle to maintain healthy relationships with people their age.

Predators consider their victims (who are minors in most cases) as nothing more than objects, serving to satisfy their illicit desires.
Help your children to understand these characteristics and use parental control apps for Android to ensure their safety.
How do online predators work?
 

Predators use chat rooms, instant messaging, email, social media, or discussion boards to look for vulnerable victims.

Predators are active on online forums as many teens use it as a platform to vent out their anger and frustration, and at times they confide in the unknowns too.

Online predators gradually entice their targets by showering affection, attention, kindness, and even gifts. They spend a significant amount of time, money, and energy to this effort.

Predators are very knowledgeable and can talk with children on the topics they like the most. They can fake sympathy while listening to the kid's problems.

 

Some predators work faster while others gradually introduce adult content into their conversations and ease young people's inhibitions.
Who are at risk of cyber predators?
 

Adolescents are at high risk of being targeted by online predators.

The ones who are unaware of digital etiquette and are new to social media.

Those who are rebellious, reclusive, curious, experimental, naïve about online relationships.
Do not allow your child to be a victim of online predation, use Kids safety app.
How can you tell if your child is a victim of online predation or not?
Look out for the signs mentioned below to know whether online predators are targeting your child or not.
Your child spends a lot of time online and neglects family, friends, education, and other prioritized activities.

You find pornography on the family computer as predators often use pornography to victimize children sexually.

Your child calls or receives phone calls from people unknown to you. Cyber predators usually try to engage teenagers in adult activities or to set up a real-world meeting.

Your child receives mail, gifts, or packages from unidentified sources as predators are known to show such behaviors.

Predators try to seclude the victims from their family and friends, often magnifying the problems that kids share with them. It's a red flag if kids quickly switch to other screens to hide something when an elder enters the room.  
Now that you know how online predators can affect your child's overall well-being, use parental control apps to protect them, and read further to know about how to minimize the risk of them becoming a victim.
How to protect your child from online predators 
Talk to them
Tell your children why it is important for them to be wary of strangers they meet online. Let them know that some predators are older persons pretending to be kids.
Show your child some real-world incidents to make your point. Teach them how to spot predators.
When young, ask them to use your email address
When your kids are young, they should not have their own email accounts. It is advisable to share any of the parents' email id instead. Even when they are mature enough to have their online accounts, ask them to share their passwords.
Make rules
Instruct them never to reply to any message or email from a stranger. Place a computer in a place where the screen is visible to you, and also create a guideline about 'digital device usage.'
Warn your child about the dangers of online relationships
Despite having a caring family, at a certain age, teenagers might start seeking affection outside their homes. Social media – being a convenient medium, provides them with the opportunity, and kids are too naïve to understand the dangers of it.
Use parental control apps
Bit Guardian Parental Control gives you a lot of control over your child's devices, offering you visibility into how kids are using their devices. They allow you to block inappropriate apps, to prohibit app download, to limit the screen time.
An online predator aims to entice and exploit the kids by leading them into believing that they are more caring and understanding than their own parents. A predator creates a fictional personality that kids start depending upon.
When faced with reality, the kids harbor feelings of guilt and shame in addition to the chances of being harmed physically and emotionally. Parents need to teach their children to use technology responsibly and pick up the skills that help them identify online predators.
Instill healthy internet habits in your child by downloading parental control apps to make them successful digital citizens.