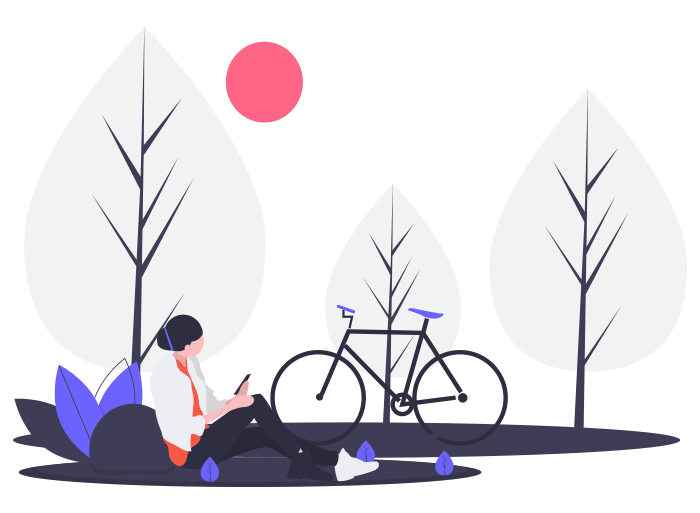 Child tracker apps empower parents to scan their child's online activities. These apps aid parents in digital monitoring of child's activities and set screen time controls on their apps. But lately, there is a rising debate on monitoring and checking on kids' online footprint. So is there a thin line between spying kids' digital activities and doing it under moderation? Let's find out!
Today's digital generation is way too smarter and intelligent. Right from the morning's coffee cup to the goodnight post -everything is being shared on social media by today's teens. And, in the absence of parental control apps, the child is an online vagabond.
Kids and young adults crave for attention. Sharing their whereabouts, life happenings, cool pictures, and a well-edited video on different social media platforms is a trend these days. And then earning likes and comments for those posts increases addiction to online social communities. But, here comes the hidden question, should parents worry about their child's web presence or rather download a good parental control app? 
Why should you know your teen's online activities using parental control apps?
We all are well-aware of online scams, hackings, a stolen identity, threatful stalking, and misuse of personal photos and information. Social sites are hunting grounds for predators and bad influencers. 
Such platforms are filled with harmful content. Sexting, gambling, adult content, and soft porn are just a tap away!
When young adults continuously compare themselves with others and seek validation, they are prone to be emotionally vulnerable. Fake friendships, chat groups, and misleading affections from strangers can harm them severely.
But, do kids really know this? Are they aware of such anonymous venoms? And this is why you must keep an eye on their web activities using smart kid tracker apps which help to filter malicious content. It is imperative to introduce social media sites but at the same time make your kids aware of the possible threats.
Educate Technology
Remember the first time your child or teen used the smartphone? You must have helped them to understand different features. You educated them on how to use it properly. In the same way, why don't you teach your child about different social media platforms?
It is better to introduce technology properly and early. But help them in understanding the pros of social media and encourage them to use it responsibly.
Also, talk about the evil sides of such networking sites. Make them aware of inappropriate chats, statements videos, and pictures. And, if needed, start following their social media accounts!
Making a fake account and following your son or daughter seems like invading their privacy? So you are right to assume that there is a fine line between spying and monitoring!
Choose to Monitor Over Spying
When it comes to protecting your child and tracing their digital footprints, instead of spying, try smart monitoring. Because interference or spying appears as a negative connotation.
According to kids psychology, when you forcefully stop kids from causing something, it provokes their curiosity, and they are more eager to do it.
When you block a few web content or ask for passwords, you are clearly spying on them. In fact, young teens hate this the most. You should deal with this with smart tactics. Start a transparent communication with your child. Let them feel free to share anything and everything with you.
When you spy, you already have doubts in mind, but when you monitor you just watch something with close attention. Mindfully following your kid's actions will strengthen your bond with them. Take the help of best rated parental control app to improve your habit of monitoring a child's digital activities.
Read More – Monitor Child Phone Activity on Android?
Check for Changed Behavioural Patterns

Those weekend activities your son used to enjoy with you, are irritating him now? Video gaming or web media sessions replaced those Friday pizza parties? You should not overlook these sudden differences. 
When you mindfully observe kid's action, you can notice if there are new changes in their behavior. The overuse of social media leads to poor mental health. Depression, anxiety, isolation, sleep disorders are a few of them. Excessive screen relationship destroys real-life relationships.
Define a Penalty Score
Instead of being an annoying hard taskmaster, be a fun-loving friend to your adolescent and teens. At this age, they enjoy friendly and cool talks. Innovative ways of scanning your child's web actions will easily convince them to share their online activities.
Define a few fixed hours to use web media(Curfew hour). Achieve the fixed hours with the help of time schedule Android apps. Make a playful version of it by setting a penalty score for overuse and rewards for no -use! ( Sp. at family gatherings and holidays)
Balance is the key
A wise step to deal with kid's online activities is to allow moderate use of technology.
Let them use the different social media platforms for academics or for other constructive activities. If they are learning creative skills like graphics or designing from social media pages, promote their abilities, and smartly make them indulge in more of ground-based activities.
Teach them the importance of a balance. A balanced life is more productive, and healthy use of technology can save their time and efforts. It is refreshing and necessary for networking.
For the notorious ones, parents should resort to screen time control app to help them understand the importance of balance and time management.
Prevention is better than cure
When this entire saga is based on mapping the online activities of the kid, let's not forget the brain mapping and its active role in the child's growth. Altering their screen time with productive games and sports activities is a wise parental control tip.
Before they develop a habit of excessive internet usage, mold their curiosity by different brainstorming puzzles. Encourage them to participate in sports activities.
Instead of engaging in screen relationships help them to develop real-life relationships. Making new friends, playing together, or merely complaining about school activities to each other will make their life lively! 
Still skeptical about spying kid's digital life? A kid's safety app for parents is a permanent solution to all your doubts! Be a wise parent by securing their web presence and not intruding on their privacy.