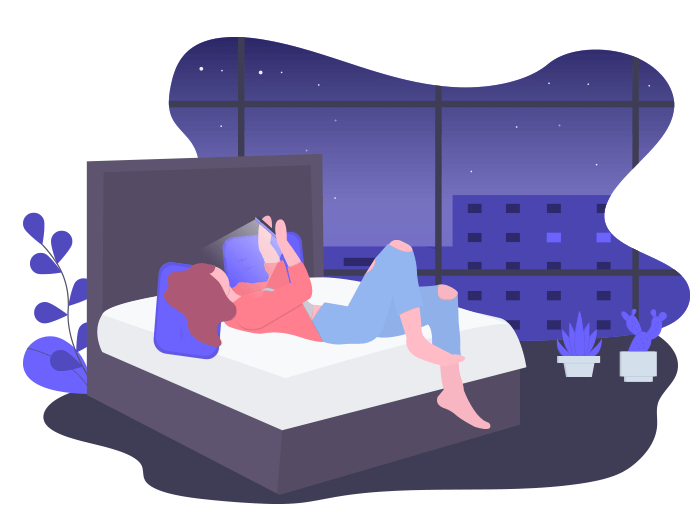 Bit Guardian Parental Control App is the answer to kids' smartphone addiction and digital protection. It is a comprehensive package offering innovative methods to block apps, limit screen time, restrict callers, track kids, and much more. 
Unlike other screen time control apps in the market, Bit Guardian specializes in smartphone activities and controls undesirable obsession for addictive apps. 
Before we talk about Bit Guardian Parental Control, here is a short introduction to the significance of parental control apps and how they benefit your kids.
Introducing Bit Guardian Parental Control App and its popular features
Bit Guardian is a suitable mix of digitization and parenting in the modern tech age. The mobile-friendly app offers a core parental control feature in an easy-to-use platter. 
This app has risen to popularity due to its innovative set of features for child restrictions, and user-friendly portal. No doubt there are plenty of market players in the Android sector, yet this app outshines others due to the simple yet advanced functionalities which are age-appropriate.
Bit Guardian Parental Control sticks to the freemium model. The premium features come in handy during unforeseen situations and are priced at a minimum value. 
It is hard to be a super-parent in a world filled with online crimes and digital nuances. Bit Guardian offers support to parents through the following functionalities:
Parent Side 
App Blocker

Gaming, social media, and video apps are addictive, but apps displaying porno, and encouraging dating are detrimental for kids. These apps play with a kid's mind and influence them in performing undesirable activities. App blocker gets hold of kids' phone apps and ensures all illicit and harmful apps are blocked. Removing access to negative content is the best way to begin digital parenting.

GPS

Global Positioning System is a game-changer for working parents. Tracing children was a real task back in the days, but with GPS enabled tools, your kid's whereabouts and activities are nearer than you know. 
Parents can get location information in a jiffy. Track kids' neighborhood using Geofencing and to put a cherry on the cake; parents will monitor the child's speed habits on the road. Each time a kid crosses the benchmark set by a parent; a notification is sent to the parent immediately.
App Install Block

Before a lousy habit can grow into a man, try to nip it in the bud. Parents should figure out ways to control the installation of inappropriate and addictive apps by blocking access to the Play Store. 
However, the app is a child-friendly app with the possibility of sending requests to parents. Children can request access to the Play Store, and parents can oblige them with granting access temporarily. 
Time Schedule

Kids are poor with time management and often lose track of time while using their cell phones. It is hard for them to let go of phones so quickly, given the hyper-casual addictive games that make adults greedy. 
Time Schedule is an efficient screen time control that disables access to apps or the entire device for a particular period. Parents can get liberal and set different timings for different apps. 
Call Blocker

Many teens entertain and allow calls from unknown people and strangers. Also, some callers are sweet talkers who eventually show their real side, and by then a lot is lost. It is essential that parents keep track of kid's contact and restrict any suspicious callers who seem harmful to your kid's company.

App Time

Often, parents are under a dilemma on how to control kids' app addiction and balance their daily chores. To achieve the right balance between academics, bedtime, and leisure, parents can set a time limit on a group of apps. Kids will not be able to access the apps beyond that time.

Kiosk Mode

Your kids may not understand the value of time and may end up wasting their precious time on the phone. To ensure children are focused during exams or sports tournaments or any such similar event, it is important to give access to the phone with only limited features like calls. Apart from the selected few apps, the kid will be unable to access any app.

Anti-Theft

Often, one mistake can spoil your child's life. Losing a phone or any gadget can be disastrous if the data goes into the wrong hands. This case is especially true with teenagers who love keeping a little treasure box on their phone. 
Anti-Theft can assist in locating the device, ringing the device for drawing attention, and best of all- the tool offers a unique way of remotely setting a factory reset. 
Child Side 
Requests

No kid wants to feel restricted all the time. Every child wants to feel free even with their cell phone restrictions. Hence kids have a way to request for eliminating a few restrictions on the phone or extension of time on apps.


SOS

While we know that an emergency comes knocking without any announcement, it is only right to assume that being prepared is all that we can do. SOS button is the technique for your child to reach you in any adverse situation. One press of the SOS button triggers a shrill siren that cannot go unheard.

Pick Me Alert

Often kids find it difficult to get a ride home in ungodly hours, it is better to reach parents than hitchhike home. So, here is a way to get in contact with your kid when they need to commute. One Pick Me notification sends the Google Maps location along with the request for pick up to the parent.
Reporting on the parent side is relatively active and helps in observing kids' request patterns and notifications coming from the child's side.
Benefits of using the Bit Guardian Parental Control App 
Any child safety and monitoring app serve multiple purposes. On the one hand, you can sabotage online criminal plans and on the other hand, get rid of kids' smartphone addiction. Both aspects are covered as part of a parental control app.

Here are 5 positive aspects of using the Bit Guardian Parental Control App:
Detrimental Health Impacts
Screen and engaging in physical activities can help kids in fighting health issues caused by excessive media time. Teary eyes, constant headaches, loss of appetite, postural problems, etc. are repercussions of screen time which can be easily dodged using a parental control plan.
The best and smartest way to outwit cyber stalkers and bullies is by blocking access to certain messaging apps like Hike, Telegram, and similar channels that allow conversation with strangers.
Any kid in today's generation is unable to give their 100% to social gatherings and relationships because of the distracting gadgets. Every new notification beep takes your child one step behind and strains their relations even more. As smart parents, Time Schedule the phone or certain disturbing apps during social gatherings, meetings, and parties.
Cell phones are synonymous with distraction. That beeping sound is enough to disturb your kid and let him wander away from their essential tasks. One way to handle this problem is to cut down the screen time or get rid of useless apps.
Exposure to unfiltered content
Content is king, and people across the globe exploit this kingdom. Kids are the worst affected individuals of uncensored content. Either the content is inexplicably harmful, or the content is uncensored adult content, unsuitable for children. It is essential to block such content and get it away from your child's view.

If you are still fighting with the thought of installing a kid safety and parental control app, it's time to get past the skeptical feelings and take a step forward to experience digital parenting using the best Android parental control app of 2019. 
Happy Parenting!