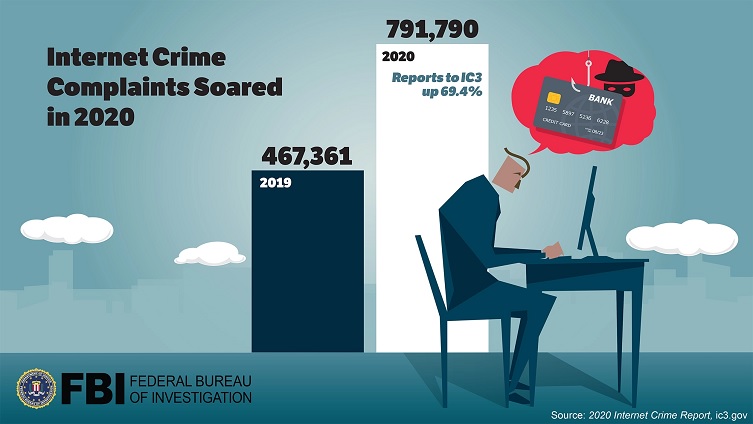 The number of internet crimes in the U.S. increased by over 300,000, according to the complaints, in 2020. FBI's Internet Crime Complaint Center mentioned that the losses exceeded $4.2 billion.
FBI released its report on internet crimes
According to FBI's 2020 Internet Crime Report (ICR) there were three crimes that victims reported mostly. First of all, hackers counted on phishing scams, as more people decided to buy online, because of the COVID restrictions.
Secondly, the report mentions non-payment/non-delivery scams. Again, villains took advantage of the users' wish to buy as many things as possible, from the web.
Thirdly, users also lost money as a result of extortion, as hackers threatened or forced them.
In fact, the FBI report emphasizes that last year meant the emergence of scams exploiting the pandemic. Thus, the Internet Crime Complaint Center (IC3) received over 28,000 complains related to the COVID-19 situation.
Info and protection tips
As the statistics look pretty worrying, IC3's report does not only inform about the most prevalent scams that affect users. Instead, it also contains tips for prevention and protection. Moreover, the 2020 ICR offers recent case examples and emphasizes FBI's work to combat internet crime.
Besides, IC3 offers an easy to use mechanism for reporting internet crime directly to the FBI. The Federal Bureau of Investigation then analyzes the data and shares information useful both for law enforcement and for the public.
According to the authorities, they also remind the public to report immediately any online crime activity, to the IC3, using their website. This way, the authorities can start investigating and also actively aid the fight against internet crimes.
The entire COVID-19 situation determined the occurrence of many online threats. Misinformation using the social media channels is one of them. Also, the propaganda against vaccination had to be addressed by the social media giants. Last, but not least, hackers also put the vaccine integrity at risk.