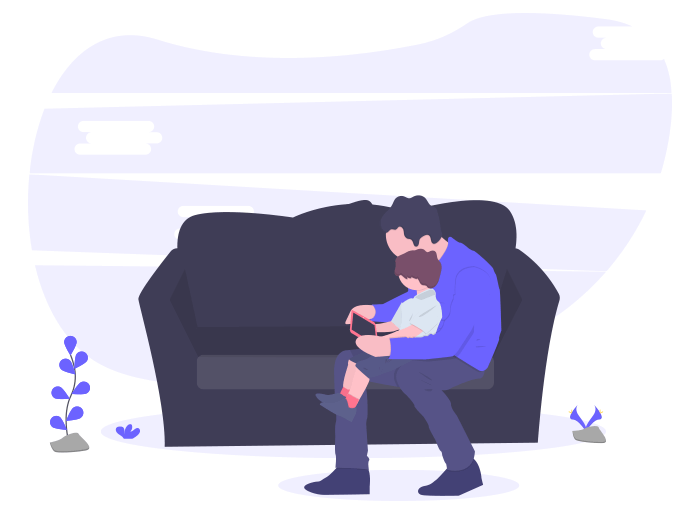 Do you find it difficult to help your kids achieving a balance between technology and life? If yes, read further to discover a few digital parenting guidelines and you can also use parental control apps to keep an eye on your child's online activities. We've put together these 8 Parenting Tips as part of our digital technology guidelines for parents, so your children can safely use screen time as a tool to promote learning and innovation.
There is no escaping from the omnipresent digital media. Wherever you turn, you will find screens—in your pockets, at airports, in stores, taxis, restaurants. Children, while being inquisitive, are naturally drawn to things that are prevalent in their surroundings. We decided to share a few digital technology guidelines for parents.
Parents might have experienced traditional bullying as children, but cyberbullying is something that they have encountered at a mature age. So, the chances of them falling short are more when they find their children being cyberbullied or meeting with other online hazards, such as cyberstalking, online predators, sexting.
We've put together these 8 Parenting Tips so your children can safely use screen time as a tool to promote learning and innovation. 
Tips for effective parenting in the digital age
Be a role model for your child
When a parent's words and actions do not match, a wrong message is forwarded to the kids. What would happen if your child wants to inform you about some important incident from their schools and you just reply with a mindless nod, staring at your screen?
In such cases, a child realizes that they are not at the center of their parent's attention. As they grow up, they imitate the exact behavior, and it soon becomes their way of life.
Encourage physical activities
One of the biggest drawbacks of being overexposed to the screens is the impact on the child's fitness level. Playing outdoors allows them to explore their environment, develop muscle strength and coordination.  
You can ask your kids to play more with the children their age outdoors and to socialize with their school's sports team as well. Doing so would enhance their social skills and boost their self-confidence too. The more they play outdoors, the less time they have to gaze at mobile. Limit their screen time with the help of a child monitoring app.
Involve them in the mundane household chores
When children start making their beds, cleaning the room, or setting the table, they feel a sense of pride and accomplishment. Assigning duties help to teach them the value of teamwork, to help build a strong work ethic, and improve time-management skills.
You can reward them with a few minutes of screen time after the completion of the tasks. Involving the kids in regular, age-appropriate chores has been associated with social and emotional benefits that help them succeed throughout life. Set a proper routine for your child by using a kid's safety apps.
Have honest conversations regularly
Meaningful conversations build trust and also develop your kid's confidence. Your child realizes that you care about them, and you are interested in their lives. As they grow up, you can talk to them about technology and can understand their perspective about social media.
In a relationship where communication channels are weaker, a child hesitates to open up about the challenges they are facing online. Avoid it by ensuring that you are always there having their back in any situation.
Let your child send you an alert in the case of an emergency by using parental control apps. 
Occasionally convert 'screen time' into 'family time'
Join you, the child in online activities such as watching, reading or playing to encourage social interactions, bonding, and learning.  Playing a video game with your kids is a good way to demonstrate sportsmanship and gaming etiquette.
You can watch a show with them, where you will have the opportunity to share your own life experiences and perspectives. Interact with them while they are online, to understand what they are doing. 
Educate your children about the cons of technology and digital etiquette
Help your children understand how overexposure to screens affects physical well-being and can foster unhealthy dependence on technology. Make them aware of online hazards, such as cyberbullying, cyberstalking, online predation, and more. This is another important parenting tip.
Tell them to treat others how they wanted to be treated online. Teach about good manners in digital communication such as email, forums, blogs, and social networking sites.
Know about the latest technology
Generally, parents believe that they cannot catch up with the skills their kids acquire at a young age.  Kids might stay one step ahead in their technical knowledge and abilities, but parents need to attempt to match their levels. Only then, they can effectively educate and guide them through the pitfalls. Stay informed: our 'Digital Technology Guidelines For Parents' series provides lots of parenting tips regarding online threats and how can these be avoided.
Children's lack of knowledge, their developing brains, the tendency to take risks and the ignorance of the consequences can make them the targets of cyber-criminals. When parents are aware of the prevailing malware, spam, and other threats, they can guide their children safely on the digital path.
Invest in parental controls and allow guided access
Bit Guardian Parental Control allows parents to set limitations on a child's phone. In case your child would come to you with the request to unblock some app, you can start a conversation about why you denied access in the first place.
By doing so, you will be teaching them to think about their actions online: a significant and invaluable skill for all digital users. Everyone in the family should be asked to follow specific predefined rules regarding device usage.
Smartphones can be distracting despite immense productivity. You keep getting notifications from different applications interrupting the momentum which can potentially affect your efficiency and make you addicted.
Parental control apps offer many useful features to ensure that your child's attraction towards the smartphone does not get converted to the addiction. Bit Guardian Parental Control app is a wonderful child monitoring app that allows parents to block inappropriate apps/unwanted calls on the child's phone.
It lets you create a geofence, the virtual boundary around your child, restrict a speed limit on their vehicles, limit the screen-time, set a schedule. Download parental control app for android, to let your child navigate safely across the web. Stay up to date with the digital technology guidelines for parents and parenting tips.