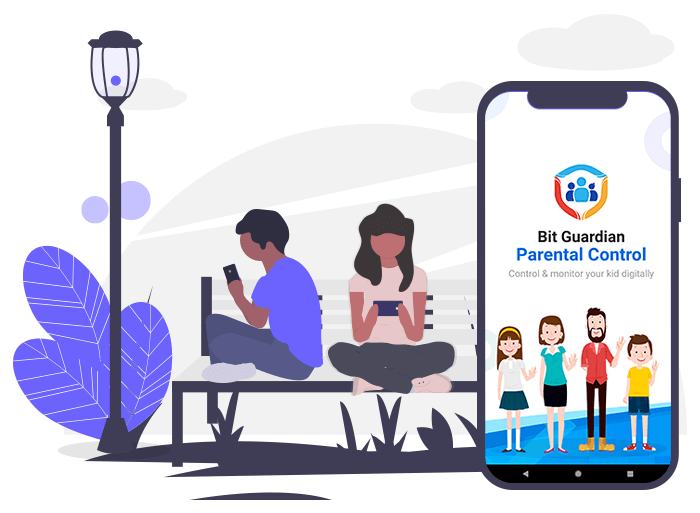 For a parent, it is compelling to allow a child to remain submerged in their apps on the devices while freeing one's self from the inconvenience of 24/7 monitoring. But it is vital to monitor the child's phone activity to avoid him/her getting entrapped by digital shackles.
A very cliché but equally perfect saying advises, 'a friend in need is a friend indeed.' So, what is a true friend of an anxious parent? Yes, it is parental control apps.
Parents need to keep themselves abreast of children's activities on social media platforms such as Facebook, Twitter, Instagram, Snapchat, and WhatsApp. Let us learn how parental control helps you to keep an eye on your child's phone activity.
Monitor your child's phone activity
Children are exposed to the internet and social platforms from a very young age. One needs to pay attention to the pattern and changes in kids' behavior to get a glimpse into their psychological state.
The majority of the parental control and monitoring apps come with fantastic features that allow the parent location tracking, app blocking, screen time controlling, and many more. Kids might try to get rid of the apps, but they are designed to prevent the child from uninstalling the software.
Developing a sense of responsibility
Before installing the software in your child's device, you must inform them. It is equally important to make them realize why are you using it and how he/she would be benefitted.
Once kids know that they are being monitored, they would try to present a clean image and would develop digital etiquette.
Limit your child's digital footprint
A digital footprint is a trail of data one creates while using the Internet. It comprises of the websites you visit, emails you send, and information you submit to online services.
Parental Controls allow you to block inappropriate sites that children might start indulging in, under the influence of friends and the environment.
Secure your child with Geofencing
Geofencing allows you to create a virtual boundary around your kids depending on their routine and limit the area to where they can roam around safely. You get a notification when they enter or leave the 'safe-zone.'
Be your child's superhero in case of emergency
Parental controls use GPS to locate your children, and some of them allow the kids to raise the alarm in case of critical situations. Parents can take quick action to resolve the issue and ensure the security of their beloved kids.
Bit Guardian Parental Control – Best monitoring app for Android
One of the safest ways to keep tabs on your child's phone activities on your devices is – Bit Guardian Parental Control. It is one of the most admired monitoring tools having extensive features, which are explained below in brief.
Best Remarkable Features of Bit Guardian Parental Control app
 1)  Panic
Panic is truly a lifesaver. When enabled, a kid can send SOS calls from any remote location to a parent, who is the default recipient of the alert.
2)  App-Block
App-Block gives you the power to supervise all the apps installed in a kid's device. Besides, you can lock any unacceptable app such as gaming, dating, gambling, or adult apps.
3)  App install block
With the App-install block, a kid cannot download any new application from the 'Play Store.'
4)  Kiosk Mode
Kids will have a bespoke home screen, displaying the only apps their parents approve of.
5)  GPS
 Geofence enables you to restrict the kids to a safe pre-defined area. You can also monitor the speed of their vehicles. If a child crosses the permitted speed limit, you'll receive a warning. 
6)  Calls
Put an end to worrying about anonymous or obnoxious callers harassing your child. You can block any incoming or outgoing call, which could be known, unknown, unidentified, spam, or any.
7) Time Schedule
With curfew hours, the kid has access to limited/no apps. With distractions getting eliminated, a child can focus more on the prioritized and important tasks.
8)  App Time Limit
Assign a time limit for the use of a single or a group of apps. Manage kid's app addiction using the new app time limit feature.
9)  Anti-Theft
Anti-Theft facilitates you to locate a kid's phone on the map; Ring Alert ensures it rings even in a silent mode. When stolen, restore the phone to factory settings, protecting your kids' confidential details. Install the Bit Guardian Parental Control App and monitor your child's phone activities.

5 Key Benefits of Bit Guardian Parental Control
The installation and features are user-friendly and straightforward to employ.

Panic feature is the need of the hour for a parent whose biggest asset is a child.

Kids cannot mess around the app against a parent's wishes.

Kids can request parents to unblock apps, change the schedule, or to remove kiosk mode.

All the paramount concerns of parents are identified and presented with perfect solutions.
How to Monitor Phone Activity with Bit Guardian
Let us learn 5 primary steps to help you understand how to employ Bit Guardian to monitor various phone activities on your kid's device.
Download and install the app to a parent device and select the 'parent mode.'

Create an account on the same device.

Insert the password for the Data Protection Plan (DPP).

Add a child with their name, gender, number, and date of birth.

Install the app on a kid's device. For login, either uses the parent credentials or scan the QR code from the parent device.
If parents don't control the gadget activities of their kids, the addiction may build up. Children casually disclose more about themselves and their whereabouts than they should online, helping vicious 'digital strangers' to find them in the real world.
Monitoring lets you know if your child (or their friends) post something regrettable online, inviting troubles. Resort to Bit Guardian – the best monitoring app for Android, to guard the apple of your eye from digital scum.